Jem Karacan says he hopes to be running again soon as he recovers from a knee injury
Reading midfielder Jem Karacan says he is on the mend after picking up his second injury in quick succession.
Last Updated: 08/11/12 2:38pm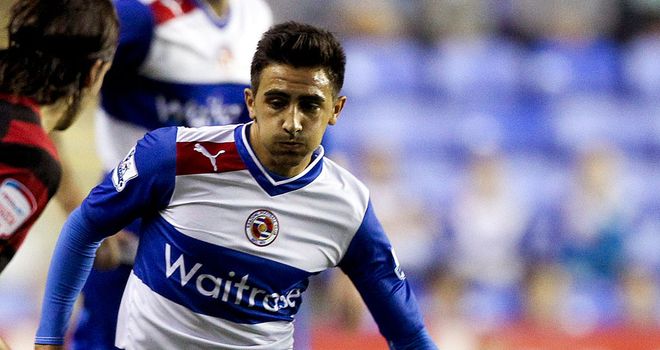 The 23-year-old missed the start of the season due to an ankle injury and then hurt his knee during a 1-0 defeat at Liverpool last month.
However, Karacan says his recovery is on track and is looking forward to returning to the fray.
"I'm in to the third week now, doing more and more work in the gym," he said. "In the last couple of weeks I've been mainly doing weights and getting more strength in the leg. Hopefully it won't be too long until I can start running but it depends on how sturdy and stable it is.
"It's frustrating after I was out for so long over the summer. It's the worst feeling in the world being injured, it's not nice watching the lads play when you're out.
"To know you're out for a few weeks is heartbreaking but I've got to get it right before I can come back. The physios are brilliant with me and they know I'm eager to get back out as soon as possible."
Jay Tabb has filled in for Karacan in midfield and has been doing an impressive job, notably during Sunday's 1-1 draw at QPR.
Karacan said: "I thought Jay was brilliant against QPR. He gives 110% and he's making brilliant tackles in the 90th minute. He's been here ever since I've been here and, whenever I've played alongside him, it's been a pleasure.
"He's the nicest guy in the world - if he's not in the team, he'll be the first to shake your hand. He works as hard as anyone day in day out and deserves the shirt."
The win is coming
The Royals are still searching for their first Premier League win of the season and Karacan is hopeful it will come at home to Norwich this weekend.
He said: "There's a big game on Saturday and the boys should take encouragement from Sunday's game. Hopefully we can do well with everyone at the Madejski right behind us, the win is coming, everyone knows it.
"Norwich are picking up a bit of form but that just shows how easily things can change for you in this league. We're in a similar position to what they were in and, if we can get a win, then it will be a massive boost to everyone."
A win would be particularly welcome for manager Brian McDermott and coach Nigel Gibbs, and Karacan added: "Everyone knows we wouldn't be where we are now without Brian and Nigel.
"Ever since the first day, Brian has been brilliant. He's the first to encourage you and he's given me my chance. He's been here for so long and he loves the club to pieces so we all want to get that first win for him."