Roberto Martinez is pleased with Wigan's mentality after committing in the summer
Roberto Martinez has hailed a 'change of mentality' in Wigan after he chose to commit himself to the club in the summer.
Last Updated: 09/11/12 5:18pm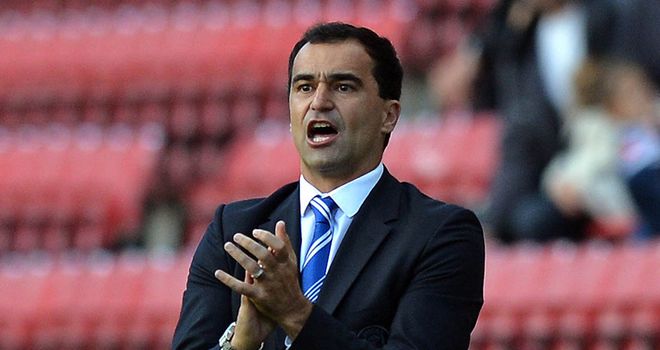 The Latics are currently level on points with Liverpool, who courted Martinez following Kenny Dalglish's sacking, but are chasing a third consecutive league win against West Brom on Saturday - and three points that would see them leapfrog the Merseysiders.
Liverpool at Anfield will be the next challenge for Wigan after West Brom, but for Martinez there are no regrets about his decision to commit himself to the Latics.
The manager said: "In the summer it was the end of the three-year period we agreed with the chairman (Dave Whelan), and that was the time I had to reflect and allow the chairman to reflect.
"Once we sat down and I heard what he wanted to do, and he's a very persuasive man, it was clear that we were going to get ready for the next chapter.
"Moving to the stadium in 1999 was a turning point in the club's history and now we are working very hard to move into a new training facility, we are investing a lot in our younger group and trying to develop our own players, and we have very strong financial structures and are in a very healthy position."
Should victory come at home against West Brom on Saturday, it would not be the first time that Wigan have managed a hat-trick of league wins under Martinez - they did so in the final three matches of last season to secure their top-flight status once more.
But this time, it is not a question of last-gasp heroics but one of consolidating a secure place in mid-table.
Martinez added: "To get three wins in a row would be a huge achievement in this league. We did so in the last three matches of last season against Blackburn, Wolves and Newcastle and it represents a real change of mentality for us."
He said: "It has always been the case that we always reached the last third of the season where we really needed those points to save us. To do so in November would be a real change - rather than having to win it's wanting to win.
"The manner in which we achieved the previous two wins - they haven't been accidents or lucky results, they have been deserved wins with very good performances against two good teams."