Arsene Wenger admits Lukas Podolski has struggled to adapt at Arsenal, but is backing him to come good
Arsene Wenger accepts that Lukas Podolski has struggled to adapt to life in the Premier League.
Last Updated: 10/11/12 10:45am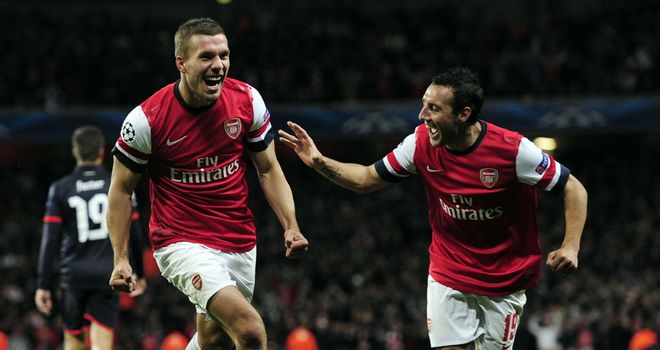 Podolski, who was signed from Cologne for £10.9m in the summer, has been quoted as saying he would like a more central role, having been deployed on the left-hand side primarily by his manager.
"He started well but he works very hard, and in recent games he has been a bit less fresh. He's not used to working at that level of intensity," Wenger said. "So when you come to England, it's a shock.
"In England, you have Wayne Rooney, who works his socks off ... you have everybody who works hard. There is no room for anybody to work less or you don't exist.
"For example, Saturday's game at Man United, where we were not very good the physical intensity of the game was absolutely unbelievable. If you have one or two players who don't do that, you just don't exist at all.
"Podolski will adapt, I don't worry for him. He has a very good spirit and he wants to do very well.
"Of course, because he tries to help the team, sometimes he does some work now ... but he will get used to it. He can as well play through the middle or behind the striker. That is one of the reasons I brought him.
"I brought him with the idea that, when needed, he would play through the middle. I like the idea but we will use him where he is useful for the team."