Sunderland winger James McClean made 'personal choice' over poppy
Sunderland have confirmed James McClean's decision not to wear a Remembrance Day poppy on his shirt was a personal one.
Last Updated: 11/11/12 3:18pm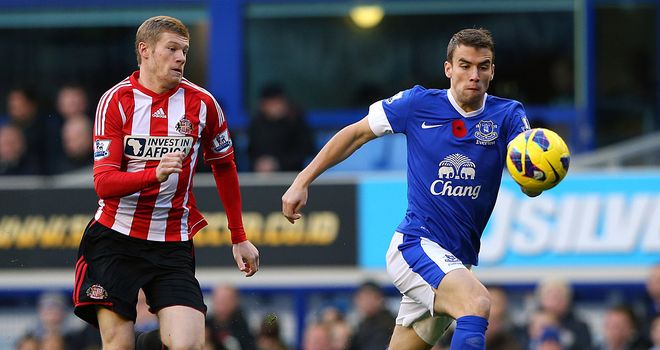 The Northern Ireland-born Republic of Ireland international did not wear the same shirt as the rest of his team-mates during Saturday's 2-1 Premier League defeat at Everton.
The 23-year-old winger's decision sparked a flurry of both criticism and support but the Black Cats insist it was McClean's 'personal choice' not to join the commemorations.
A statement said: "As a club, SAFC wholeheartedly supports the Remembrance commemorations. It was James' personal choice not to wear a shirt on this occasion."
Derry-born McClean has already been the subject of controversy earlier this year when he opted to play for the Republic rather than Northern Ireland and found himself the target for abuse.
And the player also hit the headlines for slamming Ireland boss Giovanni Trapattoni on Twitter for leaving him on the bench during a 2-1 World Cup qualifying victory in Kazakhstan in September.
Sunderland boss Martin O'Neill urged him to take greater responsibility for his career and to curtail his interest in social media after that incident.
McClean is set to link up with his Republic team-mates on Sunday ahead of Wednesday night's friendly against Greece in Dublin.