Chelsea captain John Terry to undergo MRI scan on Monday following knee injury
John Terry will undergo an MRI scan on Monday to determine the damage suffered to his knee against Liverpool.
Last Updated: 12/11/12 5:31pm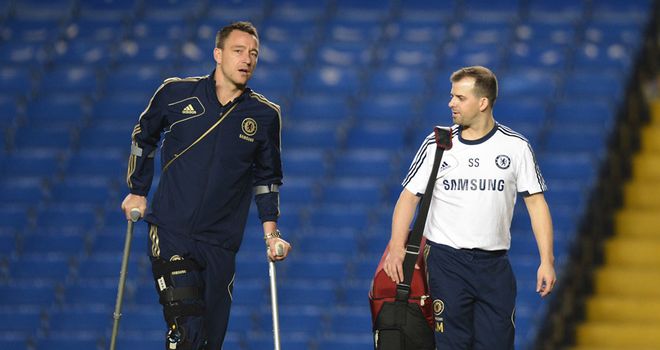 The Chelsea captain, making his comeback after a four-match domestic ban, headed the hosts in front from a corner in the 20th minute.
But his joy turned to agony 15 minutes later as his tackle on Luis Suarez ended with the Liverpool striker landing awkwardly on the centre-back's right leg.
Terry immediately signalled his distress to the bench and after five minutes of treatment he was carried off on a stretcher.
The 31-year-old had his head in his hands and was consoled by manager Roberto Di Matteo before disappearing down the tunnel.
After the match Di Matteo said: "We will have to wait until the swelling goes down on John's knee before we can assess the extent of the injury.
"At the moment he is still here at Stamford Bridge. It's a shame for him as he has just come back from his ban. I hope the injury is not too serious.
"He has got a problem with his knee and will have to have an MRI scan on Monday morning. We will have to wait for the MRI scan. That will tell us the exact extent of the injury.
"You saw how he started the game, with his quality and experience and he scored the goal. He is a player who is very influential in our team and we will certainly miss him."
The defender had been enjoying a dream return to action when he powered the European champions ahead from a corner.
Di Matteo said: "He started the game very well, showing the qualities he has, and the experience and influence."
Chelsea struggled defensively after he went off, allowing Suarez to snatch a point for the visitors. They ended the weekend three points behind Manchester United in third place, two weeks after being four points clear.
Goalkeeper Petr Cech said: "We have what it takes to win trophies and challenge the best teams in Europe and the Premier League but you have to win your games.
"We are still getting experience and I believe we will improve every game.
"We've hit a difficult two or three games where we didn't win and this isn't what we wanted but you can see we are progressing as a team."