Kevin Nolan says West Ham are hoping to emulate the achievements of Newcastle
Kevin Nolan hopes West Ham can emulate the achievements of Newcastle and push for European qualification.
Last Updated: 12/11/12 10:26am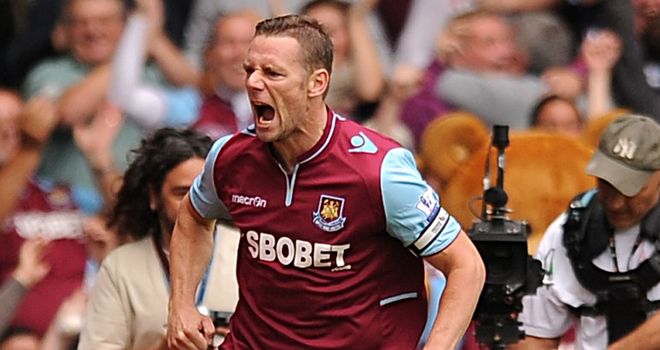 The Hammers have returned to the Premier League for the 2012/13 campaign after taking in an unwelcome one-season stay in the Championship.
West Ham hope taking one step back will allow them to take two forward, with an enforced period of reconstruction having seen them overhaul their playing staff and repair shaken confidence.
The target now is to cement a top-flight standing before pushing on towards a potential top-six finish.
After netting the winning goal in Sunday's meeting with his former employers Newcastle, with victory on Tyneside taking the Hammers onto 18 points for the season, Nolan said: "It was a fantastic performance by us. It moves us further up the table and it keeps us in the mix.
"You've got to expect to be up against it at Newcastle. They have some fantastic players who were missing, and we knew we had to capitalise on that.
"What we're trying to do at West Ham is what we tried to do at Newcastle. When we came up it was about getting them back to where they belonged and then eventually into Europe.
"That's what I feel West Ham should do. With the support we've got and the backing from the boardroom, hopefully we can emulate what Newcastle have done."