William Gallas wants Tottenham to bounce back from defeat in the North London derby
William Gallas has called on Spurs to put the 'frustration' of their Man City defeat behind them in Saturday's derby.
Last Updated: 12/11/12 2:31pm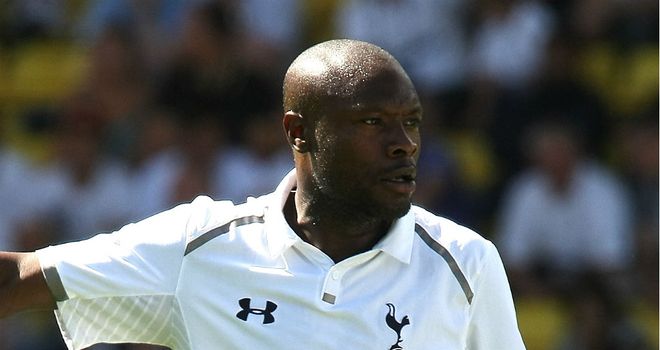 Spurs looked set to cause an upset at the Etihad Stadium on Sunday when Steven Caulker headed them in front, but they once again let a lead slip as Sergio Aguero and Edin Dzeko gave City a 2-1 win.
Tottenham are now seventh in the Premier League, three points adrift of Everton and West Brom in fourth and fifth respectively.
This weekend's derby against Arsenal, who are one point behind them in eighth, begins a sequence of key fixtures for Spurs which includes games against West Ham, Liverpool and Everton.
Spurs captain Gallas knows victory against his former club is vital.
"It is the big derby. We need a good result there. We have to do something," he said. "It was a good opportunity to beat Man City. They were not really strong.
"We scored with our first chance and conceded two goals and in the dressing room we were very frustrated about the result.
"We could have got something from the game. We could have played better, we couldn't keep the ball very well and that was maybe the key of the game.
"We were very frustrated because we then had the chance to score the second goal."
Consistency
Gallas acknowledges the battle for UEFA Champions League qualification will be tough this season, with Everton and surprise package West Brom showing the kind of consistency - particularly at home - that Spurs are lacking.
The Frenchman believes Spurs' historic win over Manchester United in September - their first at Old Trafford in 23 years - should serve as a reference point of what the team can achieve.
"If we believe in it maybe we can finish fourth, but there are so many teams who want to finish fourth as well," said the 35-year-old.
"All the fans, people who watch football, are very excited to know who will finish fourth.
"After what we did at Manchester United we have to believe we can win anywhere.
"We played very well there, now when we play away we have to be convinced we can do something and come back to London with three points."