Chelsea chairman Bruce Buck baffled by reaction to accusation against Mark Clattenburg
Chelsea's Bruce Buck has hit back at the club's critics over their accusations against Mark Clattenburg.
Last Updated: 13/11/12 6:38pm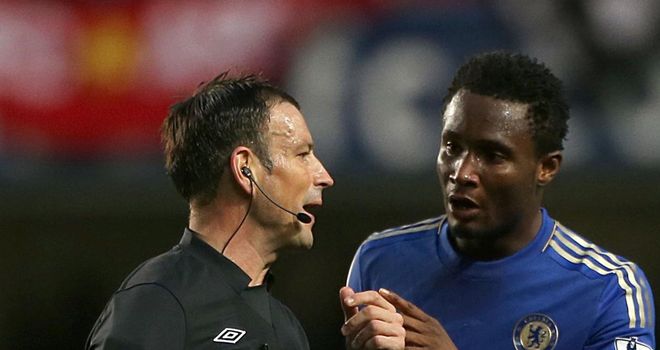 Buck is bemused by the reaction the club have received from some quarters following Chelsea's complaint that Clattenburg made an inappropriate comment to midfielder John Obi Mikel during the Premier League defeat to Manchester United last month.
The club has been criticised by some for pursuing the complaint following the defeat, in which Clattenburg made a couple of controversial decisions that went against Chelsea.
Buck insists the club were obliged to pursue the issue and it did not make them 'hypocrites' after their captain John Terry was found guilty by the Football Association of racially abusing Anton Ferdinand.
"The reaction has been very unfair," he told the Evening Standard. "We weren't interested in any confrontation with the referee or anybody else, had no thoughts of revenge on the referee.
"I felt we had the moral high ground, so I didn't really feel that bad about the defeat or have that feeling in my stomach. I thought we'd be treated very kindly in the newspapers next day.
"Suppose we had tried to sweep this under the rug and said to the various players, 'Look, it's not a big deal and the press are going to be all over us, maybe you want to reconsider.' If that had leaked out, we would've really been crucified.
"The press seem to juxtapose 'our support' of John Terry and what's going on here and looking at us as being a bit hypocritical.
"We have to divorce the John Terry situation from this. From our perspective, the latest situation was pretty straightforward.
"We have an obligation to report what may be misconduct. We did that, in good faith and not maliciously.
"We were guided by obligations that are imposed by the Football Association and also as an employer. FA rule E14 basically says a participant shall immediately report to the association any incident or matter which may be considered to be a misconduct."
He added: "Misconduct is a defined term under the FA regulations and includes such racial behaviour. We also had to consider the Equality Act 2010, which imposes an obligation on an employer to take certain actions if an employee is subject to discrimination by third parties."
Buck insists that Terry's influence at Stamford Bridge is overestimated but admits there have been numerous incidents involving the skipper.
He said: "We have a duty of care to John Terry in loco parentis. Not that, if he did something wrong, we weren't going to say he didn't do anything wrong. But we have to support him as a person. That's different from saying that, no matter what Terry does, we approve.
"I can't argue with the fact that, over the last 10 years, there have been a lot of public incidents in which Terry and Chelsea were involved. But I don't accept that we have something in our hearts that says we're going to chase the referees. It's just not like that at all, honest.
"Chelsea are not run by John Terry. I don't know how I can prove it to you but it's not true. My club is run by Roman Abramovich."