Liverpool defender Daniel Agger admits he played through the pain barrier against Chelsea
Liverpool defender Daniel Agger admits he should have rested a groin problem against Chelsea at the weekend.
Last Updated: 13/11/12 1:36pm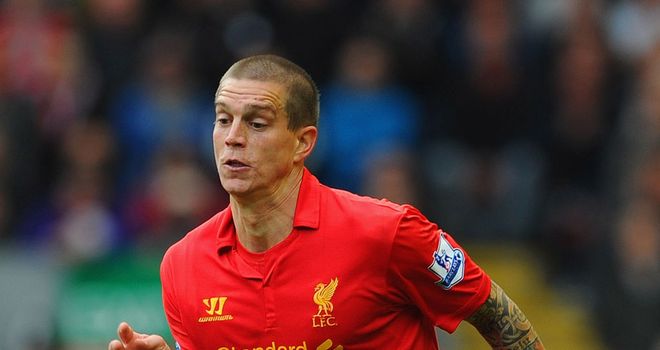 The 27-year-old, who has withdrawn from Denmark's friendly in Turkey on Wednesday in order not to aggravate the injury, took his place alongside the incoming Jamie Carragher for the 1-1 draw at Stamford Bridge as his regular centre-back partner had a virus.
And while he felt he should have sat out that game, Agger is hopeful he will be fit to face Wigan on Saturday.
"I should not have played on Sunday but Skrtel became ill and there was not much I could do. I was thrown into it," Agger told TV2 in Denmark.
"I have a pulled groin. It was something that should have kept me out on Sunday but it did not. I played the game.
"It takes hopefully only a few days (to recover).
"The reason why I have cancelled for Wednesday is that it is a bit early to play three days after I played 90 minutes with a groin problem."
Award
Meanwhile, Agger has been named Denmark's Player of the Year for the
second time.
The classy central defender was delighted to scoop the award after a successful year for club and country.
"Winning this award is one of the greatest things you can achieve as a Danish footballer," added Agger.
"I'm really committed to spending all my time involved in football.
"I have to admit that there were times when I doubted that I would ever stand here.
"I have been down and out with injuries but awards like this make me want to keep going.
"It is my attitude that means I am standing in this position."