Medals more important to Rio Ferdinand than money in Manchester United career
Manchester United defender Rio Ferdinand insists his career will be defined by medals won and not money earned.
Last Updated: 15/11/12 3:52pm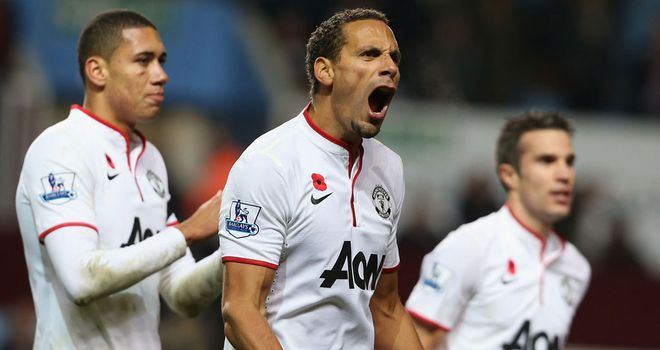 The England international has accrued a huge personal fortune during his career with further ventures in media and fashion adding to his wealth.
But Ferdinand, who turned 34 last week, says his wealth would count for nothing without the numerous honours, including five Premier League titles and a Champions League winners' medal, that he has achieved in his years at United.
"People talk about money and all the stuff that goes on around football, but to me, it just comes back to winning," he said.
"It doesn't matter how much money you have, at the end of your career, what you will be most proud of are your achievements.
"If you have won things and continue to win things for this great club, that is something to talk about.
"I wouldn't sit down and talk about how much money I have. It would be more to do with what good times we had and some of the sorrow moments, when we lost games we should have won.
"Football is the most important thing. At Manchester United, winning is definitely at the top of everyone's agenda."
Indeed, were it not for the feats of Ryan Giggs and Paul Scholes, Ferdinand's medal collection would be amongst the most glittering the game has ever seen.
Senior
Now that experience is not only being used on the field, it is coming in handy of it as Ferdinand helps mastermind another championship tilt.
"It is inevitable when you get to a certain stage in your career, you get looked upon as one of the senior players," he said.
"The others automatically look to you to be the people who are more vocal, not just on the pitch but in the dressing rooms and on the training pitch. That is just the way it happens.
"If you are one of the senior players, you have to use that responsibility the best way you can, by enhancing the performance of others around you."
With no international commitments to distract him any more, Ferdinand should be fresh for Saturday's trip to Norwich.
It is the latest in a sequence of away games - he is almost certain to be excused next week's Champions League encounter with Galatasaray in Istanbul - which Ferdinand actually thinks bring out the best in United.
"We quite enjoy playing away from home," he said.
"We have great players on the counter-attack and if we are under a bit of pressure, we know can cause a bit of trouble at the other end."