Steven Naismith accepts he has yet to show his best in an Everton shirt
Everton forward Steven Naismith accepts it may take some time before he is back to his best.
Last Updated: 15/11/12 5:58pm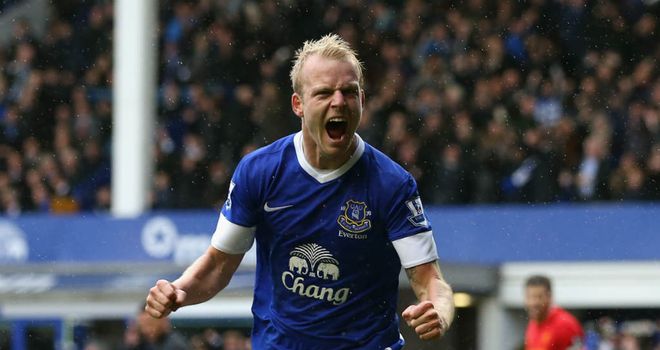 The 26-year-old has made just seven Premier League substitute appearances, scoring once, and believes he is still getting over last year's cruciate knee ligament operation - the second of his career.
After the club's impressive start to the season, losing just once in their rise to fourth, the former Rangers star has found it difficult to force his way into the side.
But he is taking a long-term view in relation to getting more first-team chances.
"Being in and out of the team is part and parcel of coming back from a knee injury," said Naismith."I think it is going to be like it for a while. I just have to keep plugging away and doing extra in training and I'll do that.
"You'll have some off-days but as long as the team is still winning and we are near the top of the table I'll be happy with that.
"The other week at Fulham I had a couple of chances when I came on and when you have guys like Steven Pienaar and the other boys going forward we are going to create chances.
"We have done that from the start of the season and we have taken our fair share and I will enjoy the opportunity to get on the end of them.
"There are a lot of quality players in this squad pushing for the starting XI and I have to be doing my best in training to show the manager he can count on me."
While his side are doing so well David Moyes can be patient with Naismith and allow him a longer period to settle in.
The Scot admits he has noticed a slight lack of confidence in the player but is confident he will come good given time.
"I felt I've seen it in training a little bit," said Moyes. "It took him six months to get right after his first cruciate operation and for his second one he had last year (October) and it might take him a bit of time.
"He will be fine. We'll keep working on him and he'll keep improving."