Sergio Aguero says Man City yet to find top form in Premier League title race
Sergio Aguero has warned the rest of the Premier League that the best is yet to come from defending champions Man City.
Last Updated: 16/11/12 8:29pm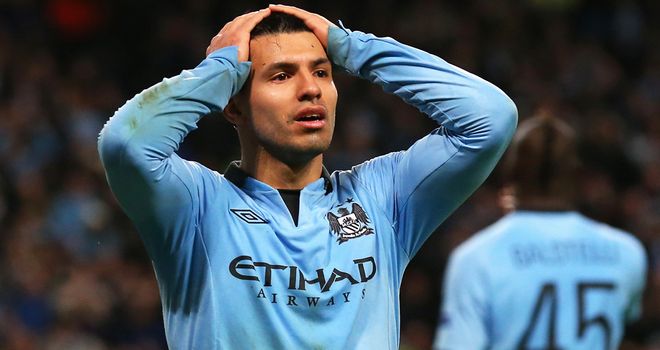 Roberto Mancini's squad have yet to find the sort of scintillating form that dramatically took them to the top-flight title in the last campaign.
But they still sit second in the table, trailing derby rivals Manchester United by just two points, having yet to lose a game ahead of hosting Aston Villa on Saturday.
And Aguero thinks that the best is yet to come from his club once they get over the injury nightmares of having had 10 squad members already this season.
"It's true that we don't have the same flair in the games as we had last season and we've scored less goals for sure," he told City's official website.
"But the Premier League table says something different. We are very hard to beat, we are second in the table and defending well, so we can't be doing that badly, can we?
"We have been hindered by a string of bad injuries to important players - David (Silva), Pablo (Zabaleta), Javi Garcia, Micah (Richards), Joleon (Lescott), Maicon, (Gareth) Barry, (James) Milner, Samir (Nasri), myself.
"It's not simple when they all happen simultaneously and I think I'm correct in saying we had very few injuries last season.
"If we have been succeeding even in spite of these difficulties, then it makes me believe that the best is still to come and we'll be able to repeat our form of last year."