Tottenham striker Emmanuel Adebayor cannot see Arsenal winning any trophies
Emmanuel Adebayor says it will be tough for Arsenal to win any silverware and expects players to leave in the summer.
Last Updated: 17/11/12 2:44pm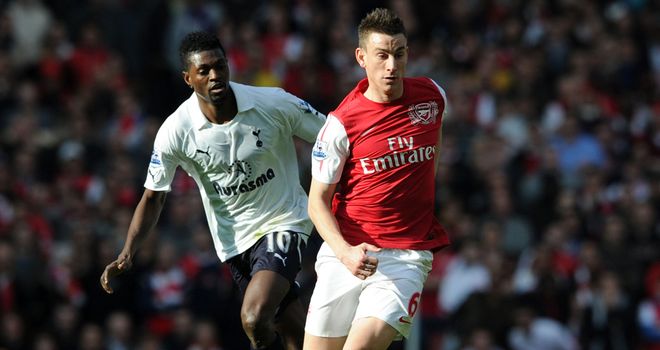 Adebayor spent three and a half years with the Gunners before leaving in 2009 and is likely to receive a hostile reception when he returns to Emirates Stadium with North London rivals Tottenham on Saturday.
He can see how frustrating it is for Arsenal supporters that so many of their top players seem to move on after good seasons, and thinks it will be tough to bring the trophy drought to an end this term.
"I think we all know it is a long time since Arsenal won a trophy. I have a huge amount of respect for all the players there now. But to win a trophy is not so easy," Adebayor told The Sun.
"The players at Arsenal are good but sometimes you need more than good to win a trophy. You also need luck. You never know but the league looks over for them and the Champions League looks tough, so I cannot see them winning any trophies.
"You also need people who say OK, I will give my life on the pitch. That is rare in football.
"Man City have Kompany, Richards, Yaya Toure and quite a few others. At United, you have Rooney, Vidic, Cleverley, who will fight. You have Scholes and Giggs as well. Chelsea have Lampard and Terry. All great players.
"Spurs have Gallas, Walker and Parker who never give up. My team-mates always fight. Assou-Ekotto is a great left-back. Friedel is also a strong character. They all work hard in training."
Adebayor added: "Lots of top players have left Arsenal over the years. The top players have always said, 'I think we have a chance to win the title if we sign one or two top players'. I always thought we could win lots of trophies with a few more good players.
"As you can see, I don't know if it is the manager or the board at Arsenal but no one has taken what the players and fans say into consideration.
"If one player has a great season at Arsenal do not be surprised if they leave in the summer."
Adebayor is looking forward to Saturday's clash with Arsenal and feels confident that Tottenham can not only finish above Arsene Wenger's men but also challenge this season's early leaders.
"Of course, Tottenham could finish in the top three. We beat United at Old Trafford and could have beaten City had we taken our chances," he explained.
"We believe in ourselves that we can finish in a good spot."