West Ham boss Sam Allardyce would be keen to sign Nicolas Anelka
Sam Allardyce would be willing to work with Nicolas Anelka again after West Ham United were linked with a January move.
Last Updated: 18/11/12 9:14am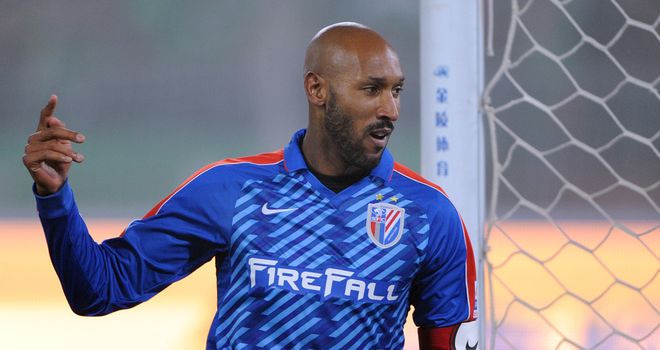 Hammers boss Allardyce signed Anelka for Bolton Wanderers in 2006 and the Frenchman has been tipped for a return to the Premier League in the New Year.
Anelka left Chelsea to join Shanghai Shenhua at the start of this year and Allardyce would be interested in signing the 33-year-old if he became available.
"It could interest me, of course it could," said Allardyce. "It would be of interest if that is a possibility financially for us and he wanted to come.
"I have had no conversations with Nicolas' agent or anything like that at this time."
Much has been made over the years of Anelka's demeanour on and off the pitch but Allardyce reckons the perception of the former Arsenal and Real Madrid forward is off the mark and hopes the family man could be tempted to head back to London.
Asked whether he ever had a problem with Anelka's questionable temperament, Allardyce said: "He never was like that in his entire time I had him.
"He was disappointed I left, when he came and played for me I had him at a very, very good time - probably at the height of his career, I would think, because he had matured into a dedicated professional.
"I think he has always been dedicated but he got sidetracked by certain situations through his younger days but he learnt from that, his experience across Europe.
"He had a girlfriend, who is now his wife, and his family and I think that has matured him - I think Nicolas has still got his family here in London, I don't think they moved out to China."
One stumbling block for a potential deal would come if Anelka refused to take a drop in his wages as he is currently reported to be earning around £250,000 a week in China.
He has also been linked with a return to Liverpool or a move to fellow strugglers QPR but all three clubs would be hard pushed to fork out the sort of money he is currently bringing in from Shenhua.