Martin O'Neill not planning to walk away from Sunderland
Martin O'Neill is confident he can be a success at Sunderland and says it is not time to hand over to another manager.
Last Updated: 18/11/12 11:28am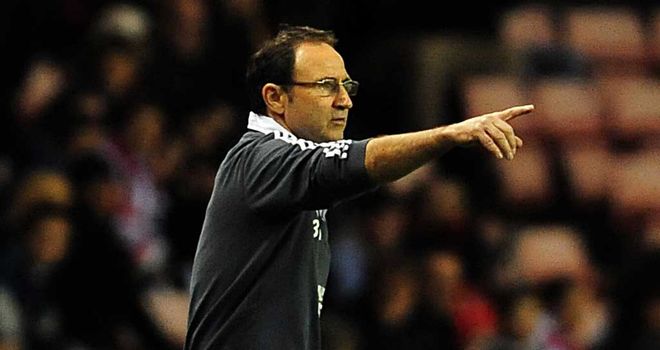 The Northern Irishman is approaching 12 months in charge at the Stadium of Light and enjoyed an instant impact in lifting Sunderland away from relegation trouble.
A run of just one win in 18 Premier League games has halted the Black Cats' progress, but O'Neill has no plans to walk away from his job.
"I want to do really well here at the football club," said O'Neill.
"It's slow but I don't want it to be a decade because I won't get the time, but we'll get there. That is my genuine view.
"There is a timescale because I have a contract. And if I have not lifted the side into a proper position, I will move over and give it to someone else, who would be better equipped. But that hasn't happened yet."
O'Neill is also leaning on the wisdom of his former Nottingham Forest manager Brian Clough after urging the Sunderland players to stick together.
He added: "It sounds crazy but before Peter Taylor joined him, he had a year and a half at Forest where he did not improve the team one jot. We may even have gone backwards.
"We were struggling as a mid-table Second Division side until Peter joined up with him and he got renewed vigour.
"We had plenty of bad times and he just told us to stick in together. Lesser managers probably said the same thing, but when he said it, you felt there was something behind it. And that is what we must do and we'll come through it."