Ukraine are keen to talk to Harry Redknapp about vacant manager's post
Ukraine are keen to lure former Tottenham manager Harry Redknapp to become their new national team boss.
Last Updated: 20/11/12 6:24pm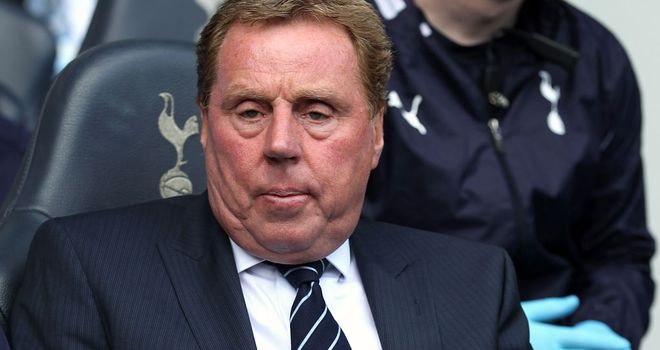 Ukraine recently failed in their bid to perduade Andriy Shevchenko to take over the vacant seat and have now turned their attentions to the ex-Spurs boss.
Redknapp's agent has confirmed the approach, though did not say whether the 65-year-old is interested.
Paul Stretford of Triple Sports and Entertainment Group, said: "I can confirm that we have been approached by the Ukrainian FA who are keen to talk to us about the possibility of Harry becoming the next manager of the national team."
A statement from the Ukraine Football Federation read: "The praesidium took the decision to begin talks with Redknapp's representatives relating to him working in the post of chief coach of the national Ukraine team."
Earlier this year Redknapp was hotly tipped to take over as England manager - a position eventually handed to Roy Hodgson - following Fabio Capello's shock decision to resign.
And after missing out on the England job Redknapp was later sacked by Tottenham and has been out of work since.
The federation's head of Ukrainian national teams Mykhaylo Fomenko said: "In all the teams that Redknapp headed he quickly improved the quality of the game and achieved the required progress. Today he is one of the very best English trainers.
"In my opinion, Redknapp will have high authority on players of the national team. He has enough experience being a coach and ability to motivate football players."
Last week Ukraine football supremo Anatoly Konkov offered Shevchenko the post vacated by Oleg Blokhin who departed for Dynamo Kiev in September.
But despite being flattered by the approach, the 36-year-old Shevchenko, who only retired from playing football at the end of the Euro 2012 finals, admitted he was not experienced enough to take on this high profile role.
Ukraine are currently a lowly fifth in their World Cup qualifying group table for the 2014 finals, with just two points from three games.