Martin Skrtel believes opposing defenders fear Liverpool striker Luis Suarez
Liverpool's Martin Skrtel believes defenders in opposing Premier League sides must have 'nightmares' about Luis Suarez.
Last Updated: 22/11/12 12:27pm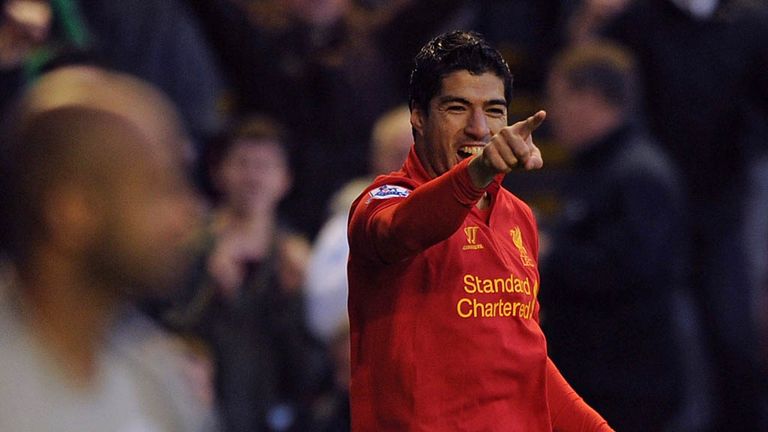 The Uruguay international is in top form at the moment, with his two goals against Wigan taking his league tally to 10, two more than his nearest rivals.
Suarez has 13 for the season, having scored twice in the Europa League and once in the Capital One Cup, and Skrtel believes on current form there is no-one better.
"It is good he is in our team because for me he is the best striker in the Premier League at the moment," said the Slovakia centre-back.
"I am happy for him to play well and score the goals. I just hope he can carry on with this and can help us get to the place we want to be.
"I play every day in training and I can see how hard it is to mark him and I'm pretty sure every single defender in the Premier League will have nightmares about him.
"I am pretty sure opponents are scared of him. The goal he scored against Newcastle was one of the best goals I have ever seen, it showed his skills and quality.
"At this moment he is the best striker in the Premier League. That is good for us and hopefully he can carry on."
Form
Skrtel and Suarez are likely to play a part in Thursday night's UEFA Europa League tie at home to Swiss side Young Boys.
Manager Brendan Rodgers is keen to put out a strong side as victory will put them through to the knockout stages with a match to spare if Udinese fail to beat Anzhi in Moscow.
Rodgers is fully aware just how well Suarez is playing at the moment, although he rejected Skrtel's assertion that defenders were in fear of him.
"He is certainly one of the top strikers in this moment in European and world football, there is absolutely no doubt, and I think he has proven that," said the Northern Irishman.
"If you look at the season so far, and even in his national team games as well, he is a guy at the top of his game enjoying his life and his football.
"He is an outstanding striker and hopefully it continues. I don't think opponents are scared. They are very aware of his talent.
"What makes Luis so unique is his unpredictability, which is difficult for opponents. He fakes to shoot, he twists, he turns and in particular in and around the box his cleverness and his brightness is incredible.
"He trains up against the likes of Martin Skrtel, Daniel Agger, Jamie Carragher and Sebastian Coates and these are tough, committed centre-halves and it is very hard for them every single day.
"He still has a lot to learn and develop but hopefully he can continue in the same vein he has been in."