Ref's union demands apology from Chelsea after referee Mark Clattenburg is cleared
Mark Clattenburg deserves an apology after he was cleared of racially abusing John Obi Mikel, his union says.
Last Updated: 23/11/12 7:27am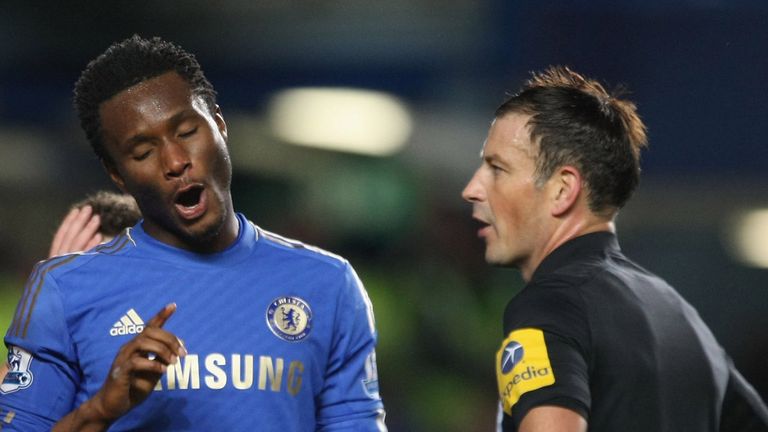 A Football Association investigation found the referee had "no case to answer" after the allegation, made by Mikel's team-mate Ramires in the wake of last month's home defeat to Manchester United, was contradicted by three other witnesses.
And both Clattenburg and Professional Referees' Union spokesman Alan Leighton reacted to the verdict by criticising Chelsea's decision to go public with their complaint.
A statement from the referee read: "To know you were innocent of something but that there was the opportunity for it to wreck your career was truly frightening.
"Racism has no place in football and this experience should not discourage those to speak out if they genuinely believe they are a victim of abuse.
"However, there are processes that should be adhered in order that any investigation can be carried out in a manner that is fair for all parties involved.
"I know first-hand the ramifications of allegations of this nature being placed into the public domain ahead of a formal process and investigation. I hope no referee has to go through this in the future."
Leighton told Sky Sports News: "What we now need to happen is for Chelsea to accept the verdict, to fully apologise unreservedly to Mark for the actions they've taken in damaging his career and to compensate him for that.
"Furthermore, I think it would be right for them to make a donation to Show Racism The Red card and Kick It Out to help the fight against racism that we need to continue in football and elsewhere."
Clattenburg, who has not refereed since the complaint was made, will return to the list of available officials with immediate effect.