Swansea defender Garry Monk feels the club owes Liverpool boss Brendan Rodgers a lot for what he did at the club
Garry Monk owes Brendan Rodgers a lot, but that will not stop him trying to get the better of his old manager.
Last Updated: 24/11/12 1:15pm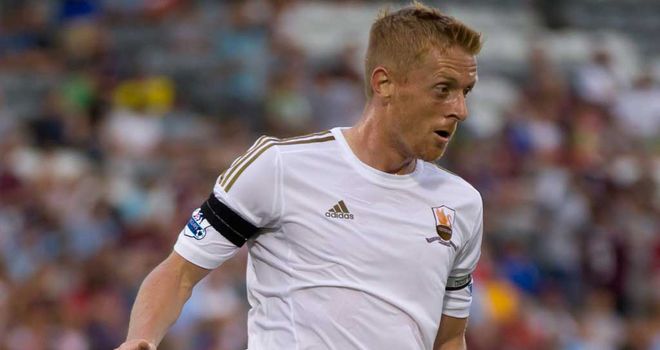 Rodgers makes his first return to the Liberty Stadium on Sunday following his departure to Liverpool in the summer.
Monk is a big admirer of Rodgers and admits the Northern Irishman did a great deal for all the players at the club after leading them into the Premier League before then going on to establish them last term in their first season back in the top flight.
"We love him to death after what he had achieved," Monk told The Independent.
"He got us into the Premiership - tactically, physically, mentally he took us on to a different level than anything we had been on before.
"But after all we've been through with him, we don't want him to have one over on us now."
Monk admits they will need to keep in-form Liverpool striker Luis Suarez quiet if they are to get the better of Rodgers this weekend.
Much of the build-up to the game has been dominated by Swansea defender's Ashley Williams' dislike of Suarez in his recently published diary of last season.
Monk admits he does not want to get involved in the row, but he is wary of the threat posed by Suarez.
"I don't want to get into it on Luis Suarez but he's not going to be everyone's cup of tea and he's not particularly my cup of tea, but he's a top, top player and that's the side of it you have to worry about," added Monk.