Andy Carroll was left with mixed feelings after claiming his first goal for the club in their defeat at Spurs
Andy Carroll admits he had mixed feelings after grabbing his first goal for West Ham.
Last Updated: 25/11/12 8:52pm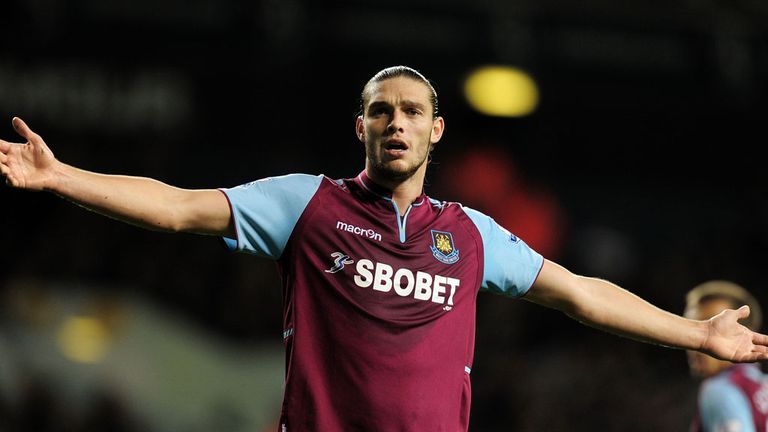 The England international was making his eighth appearance for the Hammers after joining from Liverpool on a season-long loan, and he finally found the back of the net.
But after being on the end of a 3-1 loss, he admits it does not feel great.
"It was about time, to be honest," Carroll told West Ham's website.
"I'm just grateful to have got off the mark and hopefully there will be more to come this week.
"I think I've put myself about and been involved in our goals in previous matches. I think I've been doing well so it was about time one went in. It was a great ball in by Joey O'Brien and I just had to get up and head it across the keeper. That's what I did and thankfully it went in."
He admits the performance as a team was not good enough, adding: "It was disappointing as we made mistakes for all three of their goals, really.
"We should have done better, but they have taken their chances and obviously beat us.
"Coming here we were up against a great team and they showed that tonight with the passing, the rhythm and the pace they have got in their team. I have to say we were just disappointed with our mistakes because they cost us."
Carroll is hoping West Ham can bounce back from their heavy loss at White Hart Lane, but they have a tough fixture list coming up.
"We have got a tough week, obviously, with Manchester United and then Chelsea and Liverpool coming up. It'll be tough so we just have to put this behind us now and focus on Wednesday," he said.
"Of course, the big games are what everyone looks forward to, but tonight was disappointing and we just have to put it behind us now and get ready for the Manchester United game. This game is all gone now so we're going to have to concentrate 100 per cent on Wednesday, which is going to be another tough game."