West Brom boss Steve Clarke refusing to get carried away by talk of Europe
Steve Clarke again refused to play to the crowd as he prepares his high-flying West Brom side to face Swansea.
Last Updated: 27/11/12 4:52pm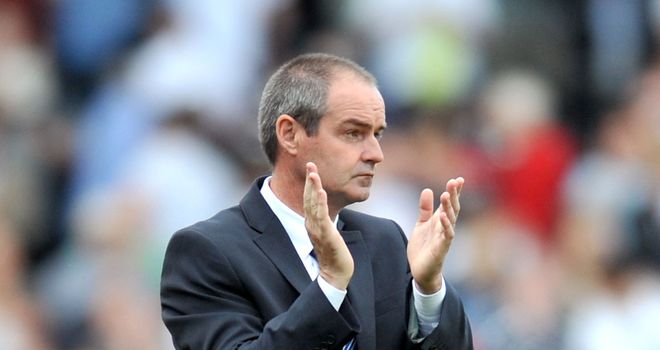 Albion are currently third in the Premier League following a superb start to Clarke's managerial career.
That has prompted suggestions of a place in Europe next season but Clarke is still resisting the temptation to look beyond the next game.
"This is where you get tested. This is a test of the squad, the character of the group," said the Baggies boss.
"So far every time they've been tested, asked the question, they have passed the test, and there have been some pivotal moments.
"We have to keep facing those challenges and we have to keep our season on the right track.
"We are in a good place, are confident and want the games to come. We are not afraid of any games at any moment and we face the challenge head on.
"But we are not even into December yet. I'll get lifted by it all when we get to the last weeks of the season. If we are still in a good position then, then I'll enjoy the moment.
"At the moment I just have to keep working game to game. I know it is boring for you guys and you want me to get carried away and say 'we are going to do this, that or the other.' We are not."
Clarke also revealed he has received encouragement from Real Madrid boss Jose Mourinho, who he worked as assistant to at Chelsea.
"Jose sent me a little text before the game at the weekend (4-2 win at Sunderland). It was a nice text," he said.
"There were some good things in it although it's private between me and Jose. But it was about encouragement and just to keep going and to keep working.
"I do just try and be myself on the training ground and in the press conferences. I always said when I took the job, although I've worked with a number of top coaches, I would just be myself."