Los Angeles Galaxy 'honoured' by link to Chelsea midfielder Frank Lampard
Tim Leiweke is 'honoured' that LA Galaxy have been linked with a move for Chelsea midfielder Frank Lampard.
Last Updated: 30/11/12 8:39am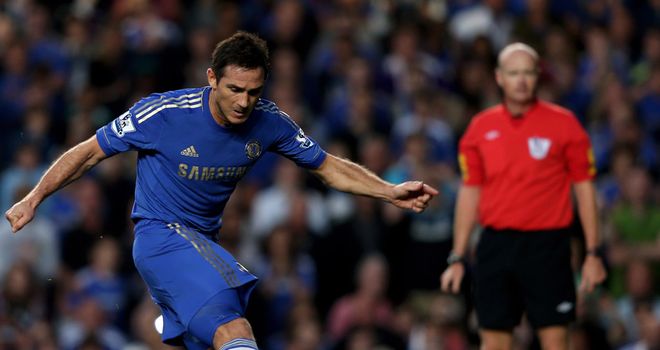 Lampard is out of contract at the end of the season and recently-appointed Chelsea manager Rafa Benitez suggested last week that the England international will be leaving Stamford Bridge.
The 34-year-old has been mooted as a replacement for the departing David Beckham in the MLS, but Leiweke would not be drawn on a possible Galaxy bid for Lampard.
"All the speculation, you guys are allowed to do that, you don't get fined," Leiweke, who is president and CEO of AEG which owns the Galaxy, told Sky Sports News. "We do!
"Chelsea is a club we have a great relationship with. We've heard of other players mentioned that are playing in Europe and we want to respect their clubs and where they're at.
"We know how it feels when suddenly a player in the middle of the league, or Champions League, gets in the eye of the storm because of the speculation he's going somewhere else, we won't do that."
Leiweke added: "When you mention the likes of Frank Lampard to me, he's one of the class acts of football. I'm a huge fan of him as an individual, a huge fan of him as a captain and a huge fan of him as a player.
"We're honoured that anyone would even speculate that Frank would want to come here, that's a good day."
The MLS club would be able to officially hold talks with Lampard from January and Leiweke is determined to pursue any potential deal through the proper channels.
He continued: "FIFA rules indicate we're not allowed to talk to players until the last six months of contract and he's longer than six months.
"We're not going to talk about Frank. Their league play and season goes all the way through to June. If we're going to have conversations we'll have them with Chelsea."