Tony Hibbert believes Everton love taking on the Premier League's best
Everton defender Tony Hibbert insists his team-mates are not daunted by the prospect of playing Manchester City.
Last Updated: 30/11/12 4:28pm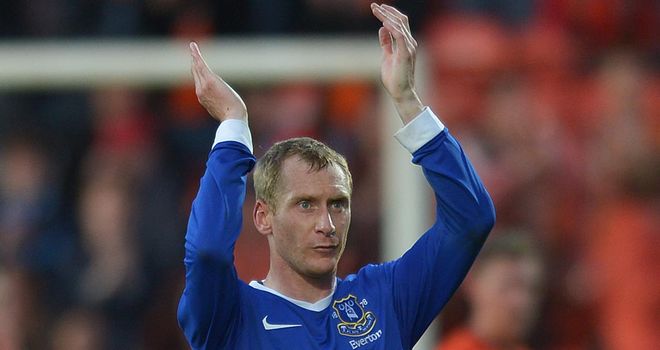 Roberto Mancini's City are currently a point behind leaders Manchester United and are unbeaten in 36 league matches at the Etihad Stadium.
While City claimed a 2-0 success at Wigan Athletic in midweek, the Toffees fought back from a goal down to secure a 1-1 draw with Arsenal at Goodison Park.
Everton have won two of their seven matches away from home this season while they were the last team to win at City in the Premier League - a 2-1 success in December 2010.
Despite the odds being stacked against David Moyes' side pulling off a weekend upset, Hibbert believes Everton look forward to taking on the league's best.
"The big teams are who you want to play against and the lads look forward to this game every season," he told the Liverpool Echo.
"The bigger the team the better. The character we have shown over the years is really blossoming and we are taking games by the scruff of the neck.
"It's been like that all season. That's more or less how we started. Teams are expecting us to play good football and the fans are happy with that."