Chelsea's interim boss Rafa Benitez says his new side lack character ahead of Euro test
Rafa Benitez admits that he is looking at the return of John Terry and Frank Lampard as Chelsea lack 'character'.
Last Updated: 03/12/12 10:33am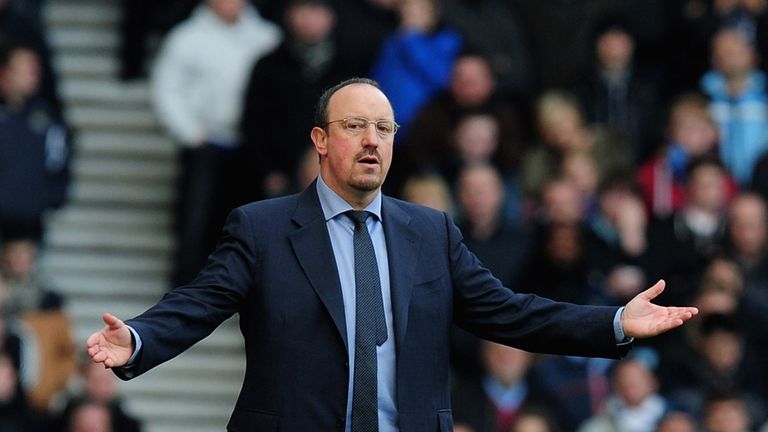 The European champions face Danish minnows FC Nordsjaelland in a crucial Champions League qualifier this week before then playing Sunderland in the Premier League on Saturday.
Benitez, who is without a win from his opening three games since being appointed interim boss at Stamford Bridge, is far from happy with his new charges and wants Terry and Lampard to aid his plight.
Terry has been out for three weeks with a knee injury, whilst Lampard has been out since October with his groin problem - but both are back in contention.
"Terry will train part of the session on Monday so, hopefully, will be close, although with the knee you never know. Frank will train on Monday as well. Sunderland? We will see," said Benitez.
"I will talk with them and then the doctor afterwards.
"Normally I wouldn't play them if it was not necessary but a lot of players can play with problems. It depends on the risk, but character and leadership are necessary in a team.
"We have young players in their first year in the Premier League, they have talent and quality but you still have to show that on the pitch.
"If you cannot cope with the physical demands of the game, you cannot show your quality so we have to give them confidence. I've not had too much time in training every day but we will try to adjust things.
"They are experienced players, they've won the Champions League and a lot of trophies but they have to show that character and they need confidence to do that.
"Some players might show character but if one or two are not at that level, the whole team suffers. That is what happened in the second half at West Ham."
Far from happy
Benitez admits he was far from happy with his players following their 3-1 loss at West Ham on Saturday.
"Normally when you lose, you are not happy - but I was angry. We did not manage their physical game, the long balls, the second balls, the corners," he said.
"We gave them too many options to play their game and we could not be comfortable in possession.
"That is when you have to show character and quality - and we did not do that. Character and leadership is always necessary in a team.
"Jose Mourinho's Chelsea team had a lot of character but it is a different time now."
Benitez insists he does not regret taking on the Chelsea challenge, adding: "I knew it was a challenge. If we had beaten Fulham, when we had control, and West Ham, everything would be different and I am confident things will change.
"I just came to do my job and I am sure that the team is good enough to win things. We have to win games and then everyone will be happier."