Manchester United boss Sir Alex Ferguson never thought he would miss out on Robin van Persie
Sir Alex Ferguson insists he was always confident of landing striker Robin van Persie ahead of Manchester City.
Last Updated: 09/12/12 1:13pm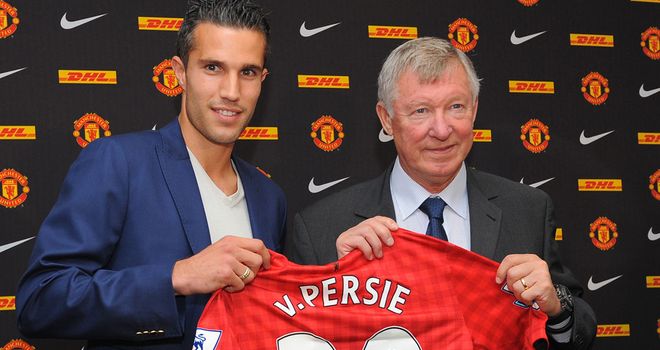 Arsenal manager Arsene Wenger had revealed the Dutchman reportedly rejected a £300,000-a-week pay deal at Manchester City so that he could join United.
Ferguson admits he was glad United forked out the £22million transfer fee to land Van Persie, who was always keen on a move to Old Trafford.
And it seems to be money well spent as the Holland international has settled in well at United, scoring an impressive 13 goals this season.
"Did I fear I could lose him to City? No. I never thought that. And he's here now. He's mature. He's experienced. I don't think he needed a lot of time to settle in," Ferguson said in the Daily Star Sunday.
"The only thing he was short of was match fitness. He hadn't played. He played for half-an-hour in Hamburg for Arsenal in pre-season. That was it.
"So he came to us and although he had done his training, the required amount of training, he hadn't played.
"He was having to catch up. But game by game and with all the training he did here - he did extra training, too - he has got to where he is now.
"His fitness is really terrific and that experience he brings to the team has been brilliant. The threat he's given us up front has added to us. In the main, he has been brilliant for us.
"He has been very good for the young ones, too. He's brought great experience and I think he's relished coming here. I think he's enjoyed that."
Van Persie has reciprocated the love, calling Ferguson 'different class' for his speeches, which the Dutch ace feels give the squad a lift.
"I have to thank the manager for his speeches and the way he makes us ready for games. It's different class. Those speeches are very important for every single one of us," he said.
"The things he says and when he says them - before, during, or after a game - is all very direct. And it's all spot-on and honest. I love that because it is the Dutch way to be straight.
"The things the manager says are a big influence on us - and especially for me. He always says the right things at the right moment."