West Brom players' anger at Arsenal's Santi Cazorla over 'dive'
West Brom's players have vented their anger at Santi Cazorla after he appeared to dive in Arsenal's win on Saturday.
Last Updated: 10/12/12 2:50pm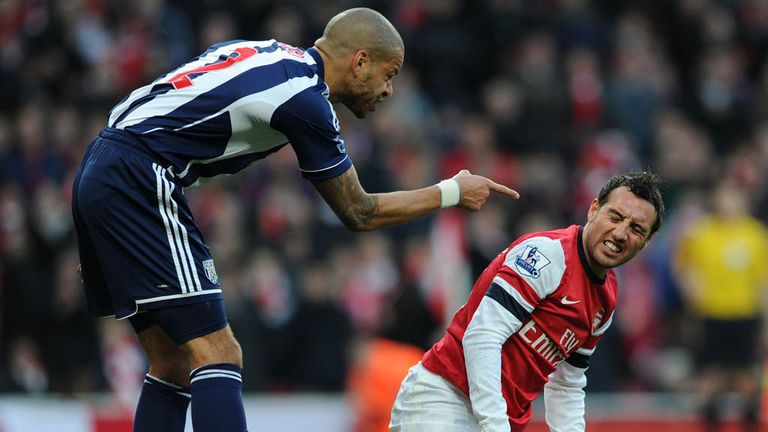 The Spanish midfielder went over somewhat dramatically just before the half-hour mark after a challenge from Steven Reid.
Baggies boss Steve Clarke fumed after the match, and the West Brom players are insistent that Cazorla conned referee Mike Jones.
"I didn't feel there was any contact. If you look at the player involved as well, I think the reaction says it all," said Reid.
Striker Shane Long added: "Reidy has said he dived and you can tell by Cazorla's reaction that he is a guilty, guilty man.
"Everyone else on the pitch can see it except for the ref. I don't want to say too much on it because I don't want to get in trouble, but I feel like we were hard done by."
Swedish defender Jonas Olsson was equally angered saying: "I don't like people diving. I'm not very objective either being a defender. Most of the time I like this league because of the fair play it contains.
"The ref doesn't have the privilege of watching replays. It's a difficult job. If it's a dive the focus should be on the person diving as well.
"It went against us. It came at a crucial part of the game. They've had a bad few weeks. It's a goal that keeps them going but they were the better team and deserved to win."
Don't miss any live and exclusive football coverage this festive season. Click here to visit Sky Sports' Festive Calendar