Arsenal midfielder Jack Wilshere claims he is 90 per cent fit and improving
Arsenal midfielder Jack Wilshere claims he is almost back to his best after returning from long-term injury.
Last Updated: 10/12/12 10:03am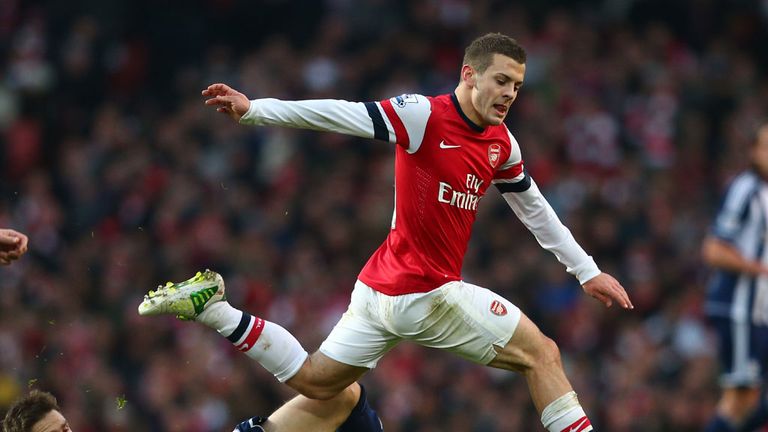 Wilshere missed 17 months of football but was a central figure in the Gunners' 2-0 win over West Brom at the weekend and claims he is improving all the time.
"I am playing at maybe 90 per cent. I am not sure," said Wilshere, quoted in The Sun.
"Every game that goes by I feel better fitness-wise. When I get up to 100 per cent I will really show what I can do.
"It is a new experience - my first injury. I did not know what to expect. I spoke to a few players who have had long-term injuries.
"They said you will come back and have a good game and you think, 'I am back', then you will have another game and you are not so good.
"I think my adrenalin got me through the first few games, which is why I was so up for it. Then you start to realise it is not as simple as that and things start catching up with you. Then you start to get back to your best.
"It is a new team from when I played before. It will take time and the more games we play together the better we will get."
Tough
Arsene Wenger certainly needs a boost after seeing his team go four games without a win prior to the weekend triumph over the Baggies, with a 2-0 home defeat to Swansea the nadir.
A weakened side then lost to Olympiakos in Greece on Tuesday but the rested midfield trio of Wilshere, Santi Cazorla and Mikel Arteta were back in the team to inspire Saturday's success.
Wilshere added: "It was a tough week. Especially after losing to Swansea - we were all devastated.
"We wanted to make things right and the boss wanted to rest some players for Tuesday, so we could not do it then. It worked.
"The boss has been great for us and we have players who can come in.
Unlucky
"I thought we were unlucky in Greece as we had a good performance, although we were through anyway. Santi, myself and Mikel were all rested and we were up for it."
Wilshere reserved particular praise for Arteta, who converted two penalties in the win over Albion.
The England international added: "Mikel is great. Tactically, his positioning is the best around. He is not the biggest lad but the amount of balls he wins in the air is good.
"He has adapted well. He is an older player and is great for the younger players. You can talk to him on the pitch and off the pitch.
"I speak to him during the game. I say, 'Mikel, if you want to go forward I will sit' so there is a good understanding there.
"He knows I want to go forward and get on the scoresheet but he is the same. At Everton recently, he was our most attacking midfielder."
Don't miss any live and exclusive football coverage this festive season. Click here to visit Sky Sports' Festive Calendar