Manchester City captain Vincent Kompany claims team retain ambition
Manchester City captain Vincent Kompany has urged his players to apply themselves to retain the Premier League title.
Last Updated: 12/12/12 8:09am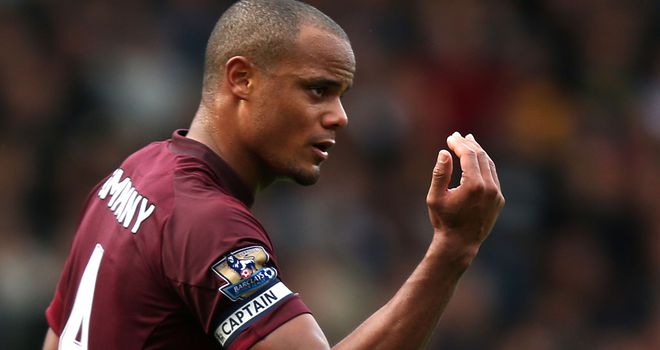 City were beaten at home by title rivals Manchester United on Sunday, leaving them six points adrift of the Red Devils, and are already out of the UEFA Champions League.
But Kompany claims the team remains determined to succeed and believes they can improve.
"In my mind, there is no difference other than we now know we can do it, so if we apply ourselves correctly we can win it again," said the Belgium international defender.
"Of course, as champions you start most games as favourites to win and teams tend to sit back a little bit more and wait for you to take the game to them - then try to catch you on the counter-attack.
"Teams may have more respect, but they are not naïve with it and that makes each game a bit trickier than it was last season. It's an honour to be defending the Premier League title, so you have to take everything that comes with it.
"The message was very clear for everyone at the start of the season - we can't sit back and just expect the success of the last campaign to land in our laps again.
"We have the ambition to improve on our achievements last season and do better again.
"That's our aim and what we work towards every day in training. We've learned a lot from winning the title but I still think there is a lot of room for improvement."
Destined
Despite a disappointing campaign so far, the 26-year-old centre-back claims it is inevitable that City will enjoy more success domestically and in Europe very soon and asked fans to be patient.
Kompany added: "I think everyone in the football world knows City are destined for greatness in the Champions League and if they don't, they would be ignoring the truth.
"We've proved as much in the Premier League and the fans have no reason to be impatient. I know they are with us, because it will come.
"There will be a City team that will go far in the Champions League, but you can't jump into the most difficult competition in the world and just win it.
"It takes time and it's good it's been so difficult so far because it proves you just have to be ready for it and hit the ground running."
Incredible
Sunday's defeat has raised tensions in Manchester but Kompany believes everyone in the city should be proud to have two clubs contesting the Premier League crown.
He added: "It's a great thing for the city and anyone who lives in and around Manchester should recognise what an incredible position it is to host two of the biggest clubs in the country in perhaps the best league in the world.
"It's something that should never be taken for granted by anyone.
"Football has brought a lot of happiness to Manchester, whether it's on the blue side or the red side because of these two football clubs, their successes and the work that is done in the community.
"The way Manchester is perceived worldwide is incredible and that's something I can see because I have lived abroad.
"Birmingham is a bigger city than Manchester, but you'd never know that because it's not on the global football map.
"If Manchester is famous around the world, it's because of its football clubs and I think that is something to be proud of."
Don't miss any live and exclusive football coverage this festive season. Click here to visit Sky Sports' Festive Calendar