Arsene Wenger admits Arsenal's values and evolution are his responsibility
Arsene Wenger - branded "a dictator" this week - has acknowledged he is responsible for Arsenal's direction as a club.
Last Updated: 13/12/12 4:36pm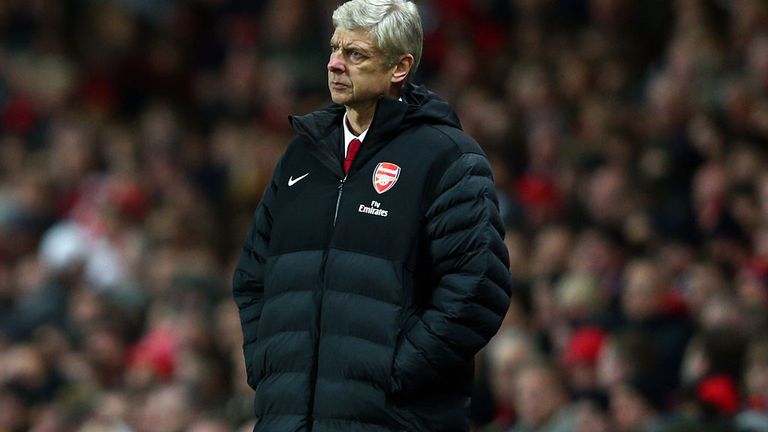 Arsenal's worst start to a season under Wenger has led to unprecedented criticism from a section of the club's support, though many continue to back a manager who has delivered UEFA Champions League qualification 15 years running.
Among the accusations levelled at Wenger is one that his decisions go unchallenged by anyone on the coaching staff or in the boardroom, and former Gunners midfielder Stewart Robson went as far as calling him "a dictator" in the wake of the Capital One Cup defeat at Bradford.
Speaking before that setback, the Frenchman told Four Four Two magazine he personally pushes the club's commitment to self-sustainability.
He said: "I feel responsible for the evolution of the club. When you've been here for 16 years, you're part of the history and the guy who is responsible for the values that the club wants to show in all aspects of daily life.
"For example, if a manager changes every two years and the players stay for 10 years, the player will always have a greater influence.
"If a manager stays at a club for 15 years, he is a 'memory' of the club. It gives you a kind of authority, because people respect the way you behave and the way you do things.
"You can only be good in life if you do what you believe is right. We have always managed the club with its own resources, given a chance to young players and developed a style of play that we think is right."
Asked if he had felt under pressure at any time during his long reign, Wenger said: "I always feel under pressure to deliver, always. You can only be successful if you question yourself."
Arsenal are expected to make some moves in the new year, with another loan deal for former club captain Thierry Henry still on the agenda. The likes of Newcastle frontman Demba Ba, Schalke forward Klaas Jan Huntelaar, Athletic Bilbao striker Fernando Llorente and Crystal Palace's England international Wilfried Zaha are all said to be on Wenger's shopping list.
Former Arsenal midfielder Ray Parlour, part of the squad which won three Premier League titles, has urged Wenger to jettison some of the deadwood in the current squad next month.
"This transfer window is going to be vital for Arsene Wenger," Parlour said on Sky Sports News.
"Everybody's saying there's £50million to spend, but I think he's also got to look at trying to get a few players out of the club as well - the likes of (Marouane) Chamakh and (Andrey) Arshavin, (Nicklas) Bendtner could be coming back, people like that, Denilson's on loan at the moment.
"All those sort of players - do they really want to play for Arsenal? That's the ones you have to really try to move on, and then buy a bit more quality."
Arsenal will also be without Gervinho at the start of 2013 when he represents the Ivory Coast at the African Nations Cup
Don't miss any live and exclusive football coverage this festive season. Click here to visit Sky Sports' Festive Calendar