Sir Alex Ferguson: Ashley Williams deserves long ban for Van Persie incident
Sir Alex Ferguson says Robin van Persie "could have been killed" in an incident at Swansea involving Ashley Williams.
Last Updated: 24/12/12 8:51am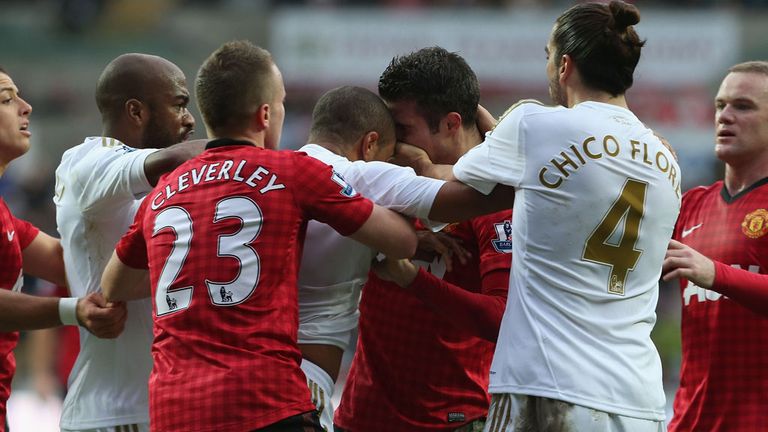 The centre-half's clearance hit a prone Van Persie at point-blank range during United's 1-1 draw in south Wales, prompting an angry response from the Dutchman.
Williams - booked at the time - afterwards insisted it was a complete accident, but a simmering Ferguson claimed Van Persie could have been killed and called the act "absolutely deliberate".
He told Sky Sports: "I think the FA has got to look into it. Irrespective of him having a yellow card he should be banned for a long, long time. It's the most dangerous thing I've seen on a football field for many, many years.
"(It was) absolutely deliberate. the whistle's gone, the game has stopped and he's done that a foot from the player. He could have killed the lad - it's a disgraceful act and he should be banned for a long, long time."
Williams said: "I tried to clear the ball it hit him on the head. I was trying to clear the ball. He was obviously a bit angry about that. It was a much ado about nothing."
Asked about Ferguson's reaction, Williams told the Daily Telegraph: "It's his opinion, he's entitled to it. I understand why Van Persie was angry but I've kicked the ball away in frustration, I wasn't trying to hit him in the head.
"I tried to say sorry but he wasn't having it. I haven't spoken to him since the game and I didn't shake hands afterwards, but only because I didn't see him. As far as I'm concerned, it's no big deal.
"If I had tried to hit him on the head deliberately, I would have missed! It's not like I'm going to shoot and hit him square in the head like that."
Don't miss any live and exclusive football coverage this festive season. Click here to visit Sky Sports' Festive Calendar