Liverpool winger Stewart Downing not expecting to move on in January
Stewart Downing claims he never wanted to leave Liverpool and hopes his return to form will earn him an extended stay.
Last Updated: 24/12/12 7:39am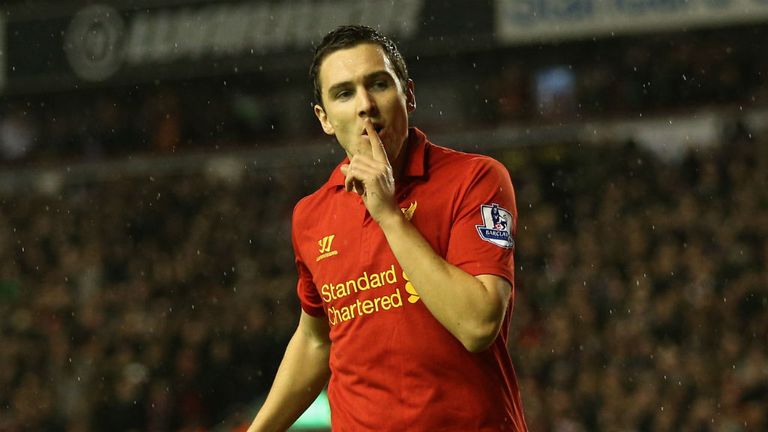 The England international found himself facing up to an uncertain future at Anfield when it was revealed that Brendan Rodgers was prepared to listen to offers in January.
With Downing out of the first-team picture at that time, he was left frustrated and puzzled on the sidelines.
A man who demanded a £20million transfer fee when moving to Merseyside from Aston Villa in 2011 has, however, knuckled down, forced his way back into the side and produced arguably his best performances in a Liverpool shirt over recent weeks.
Downing is now hoping to stay put, with the 28-year-old saying: "I wanted to stay, I didn't want to leave but it was out of my hands.
"I was out of the team and frustrated and I said if something big came up I'd look at it. We had that conversation and, to be honest, I thought I was on my way in January.
"I was a little bit surprised when he (Rodgers) said I could go. He came in and was pleased with me at the start and then all of a sudden things changed quickly and I could go.
"I don't know who makes that decision but one minute I was being told I was doing well and the next I was told I could go. It was a bit confusing.
"But it is a kick up the backside. I then had nothing to lose as I was going. If it was a gee-up for me then maybe it's worked because the performances are coming now."
Dialogue
Downing netted his first Premier League goal for Liverpool on Saturday, as the Reds hammered Fulham 4-0, and he hopes he has done enough to convince Rodgers that he is worth having around.
"The good thing is we have had open dialogue," he added.
"I speak to him if I have a problem and if he has something to say to me he can speak to me, so from that point it has been good.
"He has been straight with me and said if something comes up in January them we'd look at it but if he's saying I'm staying then it's a funny old game football.
"The only thing I can do is play well and make him keep me and pick me and that is all I am trying to do."