Liverpool boss Brendan Rodgers says Steven Gerrard will be offered new contract
Liverpool manager Brendan Rodgers insists talismanic captain Steven Gerrard has a job for life at Anfield.
Last Updated: 24/12/12 1:22pm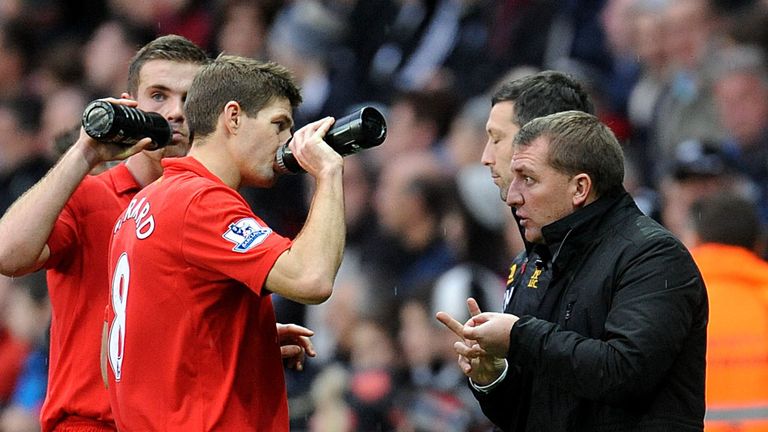 The Ulsterman's mantra of promoting youth fits with the club's overall philosophy but Rodgers also appreciates having the right senior players alongside him is key to realising his vision.
There had been doubts over whether Gerrard, at 32, would be offered fresh terms when his existing contract expires in 16 months' time.
Rodgers though is quick to dispel any possible talk of a Merseyside exit for his skipper.
"He is vital to us, and I recognise that. I know he has 16 months left on his contract, but I would want him to go beyond that for this club and this team," said Rodgers.
"He has been an inspirational captain for us, he has been a huge figure in the development of this team. We are improving, we are growing, and he has influenced that.
"Absolutely I would want him to stay beyond his current contract and extend it - there is absolutely no question about that.
"What I would say with Steven is he has a real hunger to succeed. He may be 32 years of age, but he's still got so much left."
Rodgers believes the standards Gerrard has set himself and always adhered to throughout his career will stand him in good stead in his twilight years at the top.
"He applies himself right, he eats well, he recovers well, he works well, he does everything right. This is a guy who has led his life right as a football player and that allows you to play well into your 30s," Rodgers added.
"Look, he has played every minute of every league game for us which shows what an incredible figure for us he is, and it is huge credit to him and his quality."