Harry Redknapp says it would be tough to top keeping QPR in the Premier League
Harry Redknapp says keeping QPR in the Premier League would be the biggest achievement of his managerial career.
Last Updated: 25/12/12 11:50am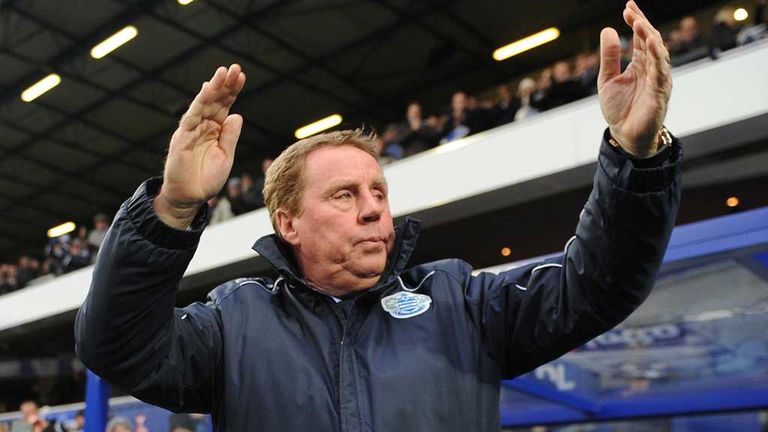 Redknapp has overseen something of a change in fortunes since arriving at Loftus Road as a replacement for the sacked Mark Hughes last month.
They have only won one of his five games in charge, but with only game having been lost as well, the ship has been somewhat steadied... albeit remaining in deep waters at the bottom end of the table.
Speaking to Sky Sports News' Jim White on Christmas morning, Redknapp said: "We've got a challenge on and if we can pull this one off between us, the players, myself, the owners the fans, it will be a great achievement from everybody's perspective, and we're all looking forward to giving it a go.
"This probably would be (my biggest challenge ever). Going back to Portsmouth was a difficult one when I went back there having left and then having gone back, if I hadn't kept them up that year, I wouldn't be stood here now.
"It's a tough one but I think we can do it. If we're clever in the window, we can get a couple in and they could make a little bit of difference to us.
"You are looking for people that are willing to take on the challenge and say 'look we are stuck down in the bottom three but we can get out of it.'
"I'll never forget winning that day at Wigan with Portsmouth and staying up. For me, that day was probably better than winning the FA Cup final, just to turn it around, and if we can do the same here it would be fantastic.
"The players I am looking to bring in want to be up for a challenge, come here and give everything they have got for the club. If we can do that we are in there with a chance."
Redknapp also had more to say on his recent comments about some of QPR's big-money stars earning more than they are actually worth.
He added: "We're a team, some players you leave out, some won't even be in the squad, but they have to be a part of the team. That's what happens in teams.
"I watched the Lions on video and it was fantastic to see the attitude of the players. We've seen it in the Olympics this year - it's about teams, not individuals.
"So, you get left out of the team, next week it will be someone else's turn - you've got to work hard to get back in, that's all you ask and when people are earning big money they should feel fortunate to come in every day, play football, come out here and do something they've loved doing since they were kids.
"What a lovely way to earn a living. We're so fortunate - very, very lucky."
Nelson
Meanwhile, QPR captain Ryan Nelsen believes the team can "sneak" some wins over the festive season as they bid to escape relegation.
Harry Redknapp's side are six points from safety, ahead of home games against West Brom and Liverpool and an away match with Chelsea.
New Zealander Nelsen realises the severity of the situation - but believes the congested programme at this time of the yea can work in their favour.
He told Sky Sports News: "We've got to start producing some points, hopefully starting tomorrow (against West Brom).
"We've been almost there in a lot of games but it's not good enough - we need some 90-minute performances.
"We've got to dig deep and play every game like it's our last and claw our way back.
"Over Christmas you can sneak wins because the games come thick and fast."
Redknapp believes keeping the west London side in the top flight would rank as one of his biggest achievements in the game and Nelsen thinks the 65-year-old is the man for the job.
"If anyone can help you it's him. The players have the motivation but he's already made an impact through his man-management."