Chelsea's John Obi Mikel is starting to adjust to David Luiz's change from defender to midfielder
John Obi Mikel admitted he is starting to adjust to David Luiz's change from defender to midfielder at Chelsea.
Last Updated: 29/12/12 2:23pm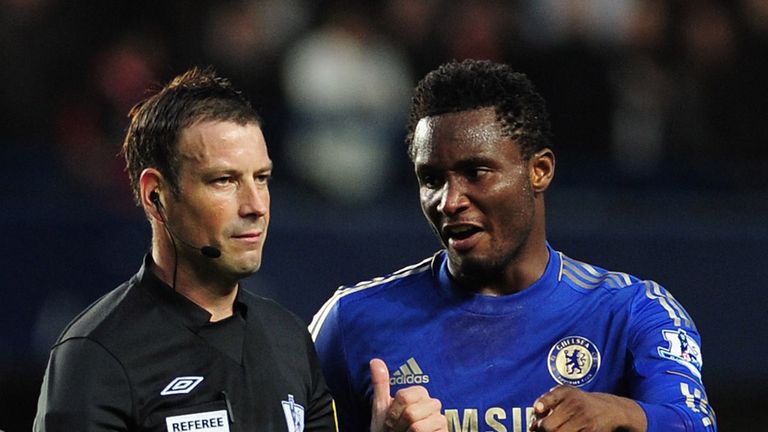 Mikel was arguably the most sceptical member of the Blues squad when interim boss Rafael Benitez first experimented with the move, even going as far as to say: "I think he needs to play at the back."
Benitez clearly thinks otherwise, having started Luiz in midfield again in Chelsea's last two matches, to spectacular effect, and it now appears less of a concern for the Nigerian ahead of Sunday's trip to Everton.
"It affects you because I've been here for a long time," said Mikel.
"I've always played with Frank and now I've played with Rami (Ramires) as well - they're all great players. Now I have to play with David Luiz.
"It's just a lot. I think, psychologically as well. You think, 'If I'm playing today, who am I going to play with?' - because they're all great players."
Unless Chelsea convince the Nigerian Football Federation to delay Mikel and Victor Moses's call-up, the duo have just two games left before they link up with their international team-mates at the Africa Cup of Nations.
Mikel could therefore face an even tougher battle to regain his first-team spot if Luiz continues to shine in his absence.
It has been a tough two months for the midfielder, whose recent suspension was the result of his behaviour during the Mark Clattenburg affair, but he wants to put the whole thing behind him.
He told Chelsea TV: "It was good to come back into the team and play against Norwich.
"I had my ban, three-game ban, and obviously I've been training with the team. But, as a football player, you want to be out there playing games."