Arsene Wenger is confident Abou Diaby can finally put his injury troubles behind him
Arsene Wenger is confident Abou Diaby can finally put his injury problems behind him and fulfil his potential.
Last Updated: 18/01/13 2:30pm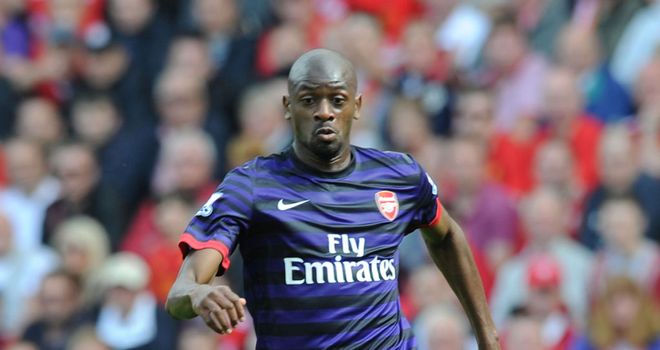 The 26-year-old has suffered a lengthy spell on the sidelines after sustaining a thigh injury in September, but made a comeback last week, starting both of the Gunners' fixtures.
The Frenchman has endured a long list of injury setbacks throughout his Arsenal career, but Wenger believes a fully-fit Diaby can help his side claw their way back into the league's top four.
"With the way we have structured the team, Diaby is an important part of the puzzle in our team because he adds qualities that we need in the middle of the park," Wenger said.
"He has power and long strides. Diaby is the closest to Patrick Vieira in his style that we have seen for a long time."
After a string of problems, Wenger now feels Diaby will get the chance to fulfil his undoubted potential.
"I faced exactly the same questions with (Robin) van Persie and for a while everybody thought Van Persie will never play a season, but last year he played 55 games," he added.
"They can get over this cycle, but you always have a little fear that another injury can come in.
"We had that for a long time with Van Persie and suddenly he got over it and I hope Diaby is over it now as well."
Arsenal head to Chelsea on Sunday, and Wenger made it clear the Gunners will be focused ahead of the Stamford Bridge clash.
"You want to go there and be at your best, which is all you can do because you never know how your opponent will turn up."
Chelsea v Arsenal is live on Sky Sports 1 this Sunday. For more details click here