Chelsea's Eden Hazard may face a police investigation after clash with Swansea ballboy
Chelsea midfielder Eden Hazard could face a police investigation following his skirmish with a Swansea ball-boy.
Last Updated: 25/01/13 12:58pm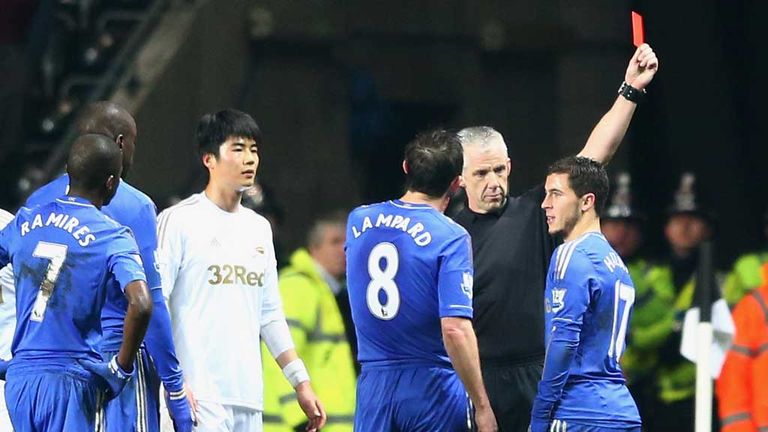 The incident happened during the Capital One Cup semi-final second-leg at the Liberty Stadium on Wednesday.
Hazard was dismissed by referee Chris Foy after he appeared to kick ball-boy Charlie Morgan when the 17-year-old threw himself on to the match ball.
The South Wales police force revealed they received calls from "members of the public living in Sussex, Kent and West Wales" and were obliged to follow them up.
Hazard's Chelsea team-mate John Terry found himself involved in a similar situation when an off-duty policeman made a complaint after viewing a verbal spat between the defender and Queens Park Rangers player Anton Ferdinand in October 2011.
Terry was acquitted when the matter eventually went to trial last summer.
Swansea will not face any action over Morgan's role in the incident, as any complaint of time-wasting is considered an issue to be handled by the officials during the game.
Swansea stated after the game they had not told their ball boys to delay giving the ball back to the players, although Morgan had used the words "needed for time-wasting" in a post on his Twitter account - which has rapidly acquired some 90,000 followers - a few hours before kick-off.
It is not the first time Hazard's frustrations have got the better of him - in 2011 he stormed out of the stadium after being substituted during a Euro 2012 qualifier for Belgium.
And Steven Martens, the chief executive of the Belgian FA (KBVB) said: "It's unfortunate and of course it's not something we are proud of. No football authority or person interested in football likes to see acts of violence or lack of respect and this is what happened.
"It might have happened in the heat of the fire but professionals are expected to be able to control themselves.
"They have to be able to control their emotions and when they don't that's unpleasant in general.
"Of course as we are the Belgium FA we don't like it to be a Belgium national squad player but I am very much convinced that Eden himself will realise that.
"Eden is more than intelligent enough to understand that this is going to be a lesson learned for him. All of us make mistakes in life."
Professional Footballers' Association chief executive Gordon Taylor does not believe Hazard should face an FA charge over the unsavoury episode.
He told Sky Sports News: "There is obviously a process which the FA have to go through and it is up to them what they decide.
"But I don't think the young lad involved would want to see Hazard punished further.
"The referee made the correct decision on the night and you do not want people to be hung, drawn and quartered for things that happen in the heat of the moment."