Rafael Benitez blames Chelsea's lack of depth for their trophy failures this season
Rafael Benitez says Chelsea's lack of depth has led to their poor form and trophy failures this season.
Last Updated: 27/01/13 11:18am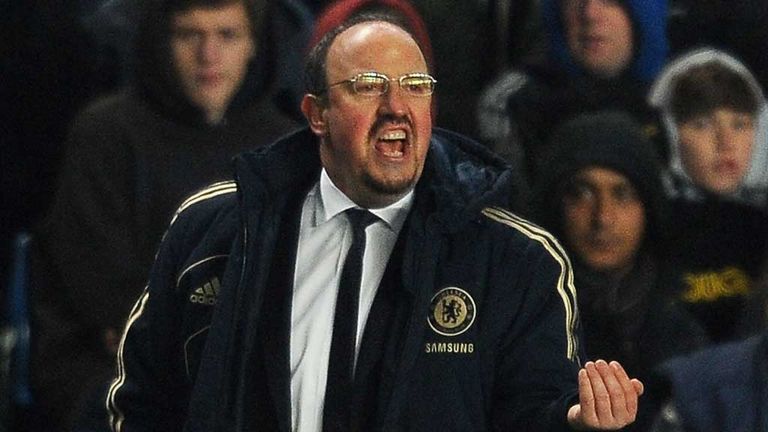 The interim Blues boss has been widely criticised for his tactics and team selections, and was dealt a further blow on Wednesday when his side exited the Capital One Cup after a semi-final defeat to Swansea.
The European champions have already relinquished five pieces of silverware, and with only two left to play for, their FA Cup fourth round tie with Brentford on Sunday is top of Benitez's agenda.
Speaking of his team's lack of winning mentality, the Spaniard said: "If you analyse the squad, if you analyse new players, new situation...
"The players that were here in the past, some of them are not here.
"So you have new players, they have to settle down in the Premier League, settle down in England. So, things are different, totally different.
"The money that was spent before and was spent recently is different, and the other teams are also stronger, they are spending money.
"When you analyse the stats, you have to put in context or they don't have any value."
He added: "It's not just about winning trophies. It's a key part of the game but the way and the tools that you have to win these trophies, that is the key."
Despite the demise of their league title challenge, and failing to secure two easy trophies - the Club World Cup and League Cup- Benitez said the squad is improving.
"The team is scoring more goals, conceding less goals," he said.
"You can see that we have more balance but still we have some problems that we have to manage in these games.
"We have the styles or the characteristics of our players, for playing in a way that you have to manage.
"Some games you cannot and you have to change, and we don't have the other options.
"It's a style of football that we have to create with the players that we have, so we have to carry on.
"We cannot play long balls and try to win second balls like other teams. We have players that they have quality and we have to try to play this style of football."