Man Utd boss Sir Alex Ferguson has no worries over Rio Ferdinand's contract situation
Sir Alex Ferguson is convinced that Rio Ferdinand will sign a new one-year deal to extend his Manchester United career.
Last Updated: 26/01/13 11:01am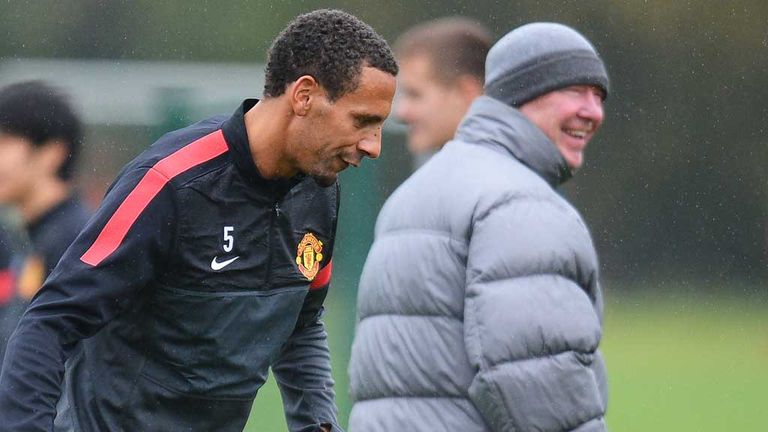 Ferdinand's current deal expires in the summer and United have a policy of not offering long extensions to players over the age of 30.
But Ferguson insists that Ferdinand, 34, still has a key role to play at Old Trafford and he is backing the defender to carry on for a few more years if he continues to perform at the level he has done this season.
"Rio has had a great season," said the United boss. "I don't think there is any reason why he won't stay.
"We give players one-year contracts, there is nothing wrong with that. I don't think players with the reputation and ability of Ryan Giggs, Paul Scholes and Rio Ferdinand should worry about a one-year contract.
"It is not to say we doubt them in terms of longevity. When players get to their 30s, it is natural - you never know how they will cope with getting older. Some do, some don't. Defenders can do it if they look after themselves.
"It does apply to all positions but particularly defenders, because they don't have the mileage on the clock that midfield or wide players have."
Meanwhile, Ferguson has hit back at critics of David de Gea after the goalkeeper's performance in the 1-1 draw with Tottenham Hotspur last week came under scrutiny.
He said: "I'm not getting into that at all. We have to listen to some idiots in the game.
"It is better we deal with David de Gea rather than the press deal with him.
"He had a fantastic game and was 30 seconds away from that. It is unfortunate for the lad but he has to deal with it. We will help him."