Michael Laudrup praises Swansea defender Chico Flores' form
Michael Laudrup has highlighted Chico Flores' improving form ahead of Swansea's trip to Sunderland on Wednesday.
Last Updated: 28/01/13 3:49pm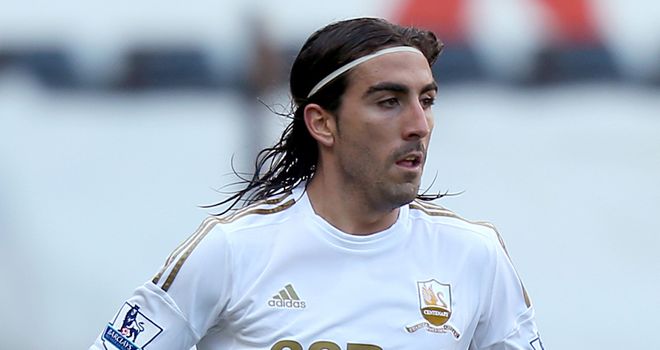 The centre-half's contribution in his first season in the Premier League has been overshadowed by fellow Spaniard Michu's goalscoring feats.
But Laudrup recognises the quick adaptation of a player who was sent off for a head-high tackle on Louis Saha when Sunderland visited the Liberty Stadium at the start of September.
"Chico has calmed down," said the Dane, whose side have shut out Chelsea - twice - and Everton since the turn of the year. "He is tough, he wants to win the ball and he has adapted. He learnt a lot from that sending off.
"The players scoring goals get all the headlines, but over the past couple of months we have improved in our defending."
Swansea's FA Cup defeat to Arsenal this month leaves their schedule relatively uncluttered for the rest of the season, and Laudrup does not envisage signing players before Thursday's transfer deadline.
He said: "Some teams have a different situation, but we will only play one game a week until the end of the season."
You can only watch the best Barclays Premier League coverage here on Sky Sports. Watch Sunderland v Swansea exclusively live on Sky Sports HD2 and Sky Go from 7.30pm on Tuesday 29th January. Click here for more details