Manchester City manager Mancini sad to see Balotelli join AC Milan
Manchester City manager Roberto Mancini was sad to see Mario Balotelli leave the club for AC Milan.
Last Updated: 02/02/13 10:07am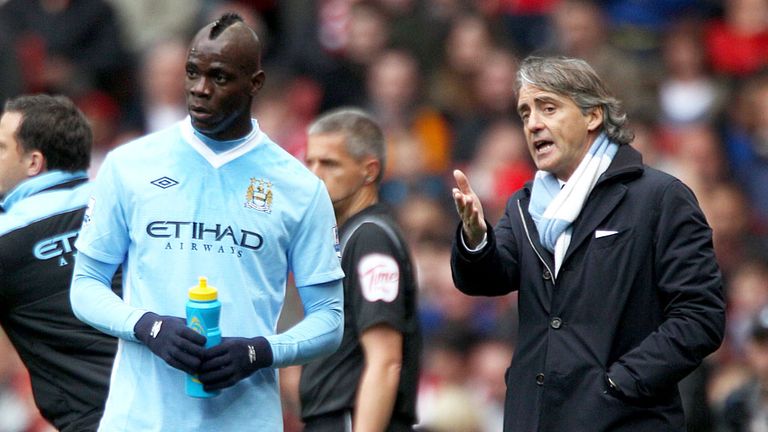 Balotelli signed for the Serie A club for a £19m fee this week after two-and-a-half eventful years at the Etihad Stadium.
The striker was involved in a number of controversial incidents in his time in Manchester, the most recent being a training ground bust-up with Mancini himself in January.
But the City boss admitted to a sadness at the departure of a player he had previously described as being "like a son" to him.
"It was good for everyone; for Mario, to take a big chance to go to Italy and play with a top club like Milan," he said. "It was important for him and for the club.
"No, we are not happy. Mario did well, maybe not in the last three or four months because of injury, but he helped us win the Premier League and FA Cup. We are sad that he leaves.
"It was difficult. It was only my decision. I believe in him and I believe for him after two years in England, it was important for him to go back to Italy."
Balotelli's exit means City now have three frontline strikers in Sergio Aguero, Carlos Tevez and Edin Dzeko.
But Mancini is confident that will be enough with the club now only competing for two trophies, and says they did not make a last-minute bid to replace Balotelli.
"No, we did not (try to sign a striker)," he said. "It is difficult for us to take a good player from another club at this time.
"Now we have three strikers, but we have only the Premier League and the FA Cup, which could be enough."