West Brom's Peter Odemwingie to be disciplined for deadline-day actions
West Brom have confirmed that striker Peter Odemwingie will be disciplined for his conduct on transfer deadline day.
Last Updated: 02/02/13 7:43am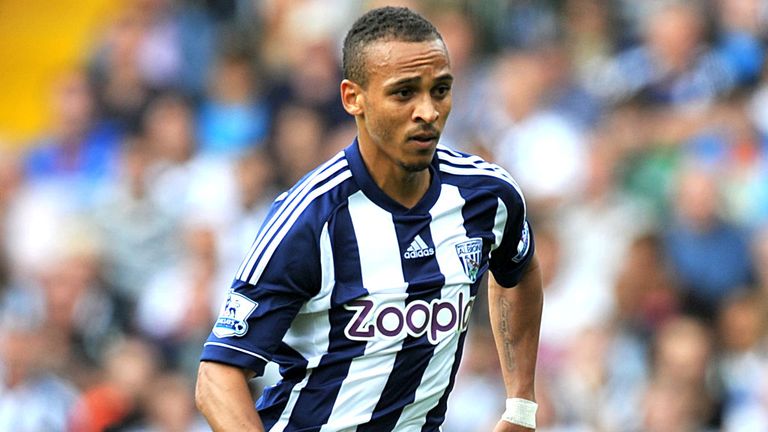 West Brom have accused the 31-year-old striker of acting in a "wholly unprofessional" manner by driving to talk terms with QPR despite no deal having been agreed between the clubs.
The Nigerian international claims that he had an understanding with Baggies technical director Dan Ashworth that he could drive to London with a view to the clubs reaching an agreement but the club feel the player's actions worthy of punishment.
The club's official twitter feed quoted manager Steve Clarke as saying: "There is a disciplinary process in place to deal with Peter Odemwingie and it will be conducted privately."
Earlier on Thursday, Odemwingie told Sky Sports News: "They didn't give me written permission but we are in England and when you are gentlemen you understand each other easily," Odemwingie, who was sent home from training on Friday morning.
"I had to be in training that morning but when that was done I asked if I could go as I had to pack and start driving. I got the go-ahead from him (Ashworth) as far as I understand so I went round and said goodbye to everyone and thank you. In my opinion everything was done right. He can deny it because he has to look good in this situation.
"I knew that it took two hours to drive to London and I had to be there because we were 90% there and then the deal didn't happen. We were almost there, the club were angry that I went there and it was on TV. They weren't angry that I went there, but when it came up on TV that's when they said that this deal is off and asked why did I did it.
"My only regret is that I didn't have the paper in my hand before I went to London."
While admitting that his actions had been "a bit unprofessional", he also claimed the circumstances were not that different to those that saw him sign for West Brom from Lokomotiv Moscow.
"I came to this club (West Brom) in a wholly unprofessional way," he said. "I wasn't given any written permission by Lokomotiv Moscow but I arrived at this club. I did a medical, I don't think everything went so professional when I arrived."
The club confirmed on Friday that while preliminary discussions over the saga had been "constructive," Odemwingie had been given permission to return home and will play no part in Sunday's home clash with Tottenham.
"Peter Odemwingie is not in right frame of mind to face Spurs this weekend. It's in best interests of other players that he's not involved. (He) will return to training when we decide it is right," Clarke was quoted on the club's Twitter feed.
Odemwingie, who has 18 months left on his West Brom contract, confirmed that he still wishes to leave the club for personal reasons.
"I believe if West Brom brought me back here it is because they believe there is a way I can be back on the pitch and giving my best to the team," he said.
"I will always love the club but I will still leave, it is just a matter of time. I understand the need to honour your contract but the club have known the reasons I want to leave for some time now. They feel I can overcome that, but they don't know my heart.
"My contract runs out in a year and a half. I wasn't offered an extension here. My career ends one day and so will my contract here at West Brom."
Speaking later outside the club's training ground, Odemwingie said: "I've had a chat with Dan Ashworth this morning and the club will say more later.
"I have been given a few days off and will be back in training next week."
To find out more about live football on Sky sports, Click here