Brendan Rodgers: Retiring Jamie Carragher still has plenty to offer Liverpool
Brendan Rodgers expects Jamie Carragher to continue to make a significant contribution to Liverpool.
Last Updated: 08/02/13 8:32am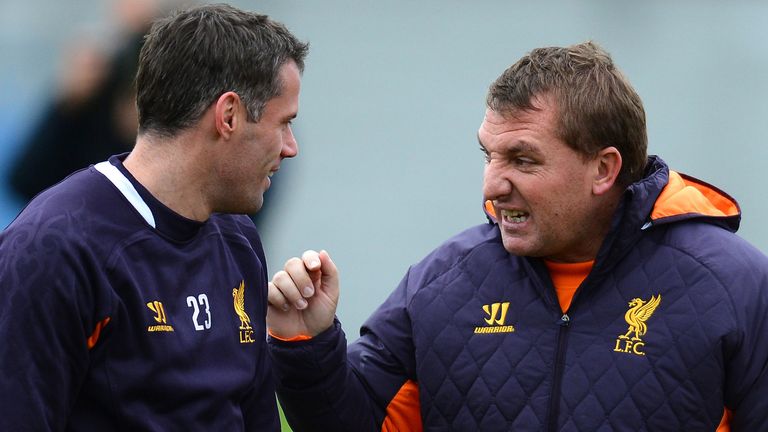 The veteran defender is to retire at the end of the current campaign, ending a 16-year career at his only professional club.
The 35-year-old has been a first-team regular again since Rodgers took over at Anfield in the summer and the Liverpool boss says he will continue to draw on his vast experience.
"Jamie has been absolutely outstanding for me since I joined the club," he told liverpoolfc.com.
"He has been a model professional on and off the pitch and has shown an unswerving commitment to our work.
"We still have a lot to play for as we look to finish as high up the Barclays Premier League as possible and continue our progression in the Europa League, a competition we'd like to win.
"He will have a significant role to play for us between now and May and I know his commitment and dedication on the pitch will remain as it has done his entire career at Liverpool.
"When the time is right we, as a team and a club, will give the man the tribute and recognition he deserves. I know the supporters will want to say thank you to someone who has served them with such distinction for so long."
The 35-year-old arrived at Anfield as a trainee in 1994 and has made 723 appearances since making his Reds debut in January 1997.
In a statement Carragher, who is second only to Ian Callaghan on the club's all-time appearance list, said: "This will be my last season at Liverpool and my last as a professional footballer.
"I'm making this announcement now because I don't want the manager or the club to be answering questions on my future when I've already decided what I am going to do.
"I will be fully committed between now and the end of the season to doing the very best for Liverpool Football Club, as I've done my entire career since joining aged just nine-years-old.
"It has been a privilege and an honour to represent this great club for as long as I have and I am immensely proud to have done so and thankful for all the support I have had.
"There are many memories I want to share and people to thank, but now is not the time for that.
"I won't be making any further comment on this decision until the end of the season; all our focus and concentration should be on achieving the best possible finish in the league this season and trying to win the last remaining trophy we are competing in."
Carragher made his first-team debut as a substitute in a Coca-Cola Cup tie at Middlesbrough in January 1997 and was part of the treble-winning team in 2001, picking up the League Cup, FA Cup and UEFA Cup.
He was also in the side that famously won the Champions League in 2005 on penalties against AC Milan in Rafael Benitez's first season in charge.
While his Liverpool career progressed, Carragher was also starting his rise through the England ranks, where he went on to play at U20, U21 and at a senior level where he earned 38 caps.
He revealed he was quitting his England career in May 2007, but was persuaded to make a U-turn by manager Fabio Capello in 2010 and went on to play two group games in the World Cup in South Africa before retiring again.
Former team-mate Jason McAteer, who played alongside Carragher between 1995 and 1999, told Sky Sports News: "It's not just a sad day for football but it's a sad day for Jamie Carragher.
"I'm sure it's not been a decision he's taken lightly. He knuckled down, worked very hard and has become a credit to the game and the football club and that's why it's going to be a sad loss.
"When you have a player that has been around as long as he has it will leave a hole."
Former Liverpool defender Phil Thompson also paid tribute to Carragher, saying: "There have been rumours flying around about this so it's not a complete surprise, but when you see Jamie coming back into the side against Arsenal and Manchester City and doing ever so well and not looking out of place, then you are maybe a bit surprised.
"But if one person knows his body that's Carragher; he's pushed it to the limit over the years, all for the great honour of playing for Liverpool, so he will know whether it is right or wrong to call it a day. We just have to give him credit for what he's done for the football club.
"The biggest compliment I can pay him is that as he plays the game now, he could have fitted into any generation of Liverpool team.
"I know his passion for football. Carra has an obsession with the game, he watches football and knows his tactics - and he will be sought after. Hopefully he can slot into the coaching staff at Liverpool, that would be ideal."
To find out more about live football on Sky Sports, Click here