Man Utd's Patrice Evra wants to send message with win over Real Madrid
Patrice Evra feels Manchester United can send a message to everyone in Europe if they can beat Real Madrid this month.
Last Updated: 08/02/13 9:52am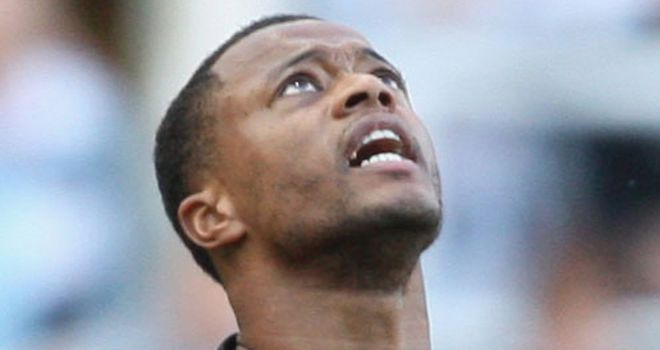 United take on the Spanish giants in a Round of 16 clash in the UEFA Champions League, with the first leg in Madrid on Wednesday.
And after suffering elimination in the group stages last season, the France international defender reckons beating Real would raise the club's profile back to where it belongs.
"This could lift everyone," said Evra, quoted in the Daily Mirror. "If we can beat Madrid then the response it gives to other teams would be important.
"Don't forget, last year we were knocked out in the first stage of the Champions League and maybe people have that image of Manchester United in Europe.
"We have to change that. That is why I think this is the perfect year to show who we really are.
"We can't miss this opportunity to show ourselves, it would be a massive disappointment.
"This is why I'm really looking forward to the match with Real Madrid. I've been waiting for a big European tie like this for a long time and it's probably the biggest European game since Barcelona in 2008.
"The fans have been waiting for this too. Manchester United v Real Madrid is a game for big players, big characters, big personalities."
Important
It's a busy period for United as they face a tricky Premier League clash against Everton on Sunday - the team who derailed their title hopes last season by salvaging a 4-4- draw from two goals down at Old Trafford.
"It's a really important time for us," added Evra. "It's important that we do well in the league in February, but we also have the Champions League game against Real Madrid.
"This is the time when you have to win your games and show that Manchester United is the number one team. It won't be easy, but this is the right moment.
"Nobody forgets the big disappointment of losing the title last season. It's really important that we just keep going because the league is not finished in February. We have a lead but nothing is done yet.
"We just have to take it game by game and aim to win every match. That's the right attitude to have. In every game this season we have had the right attitude.
"That's why I think the fans and the players are very happy this year because we really want to show we are champions. We have to keep going that way."
You can only watch the best Barclays Premier League coverage here on Sky Sports. Watch Manchester United v Everton exclusively live on Sky Sports 1HD, 3D and Sky Go from 3.30pm on Sunday 10th February. Click here for more details