Steve Clarke pleased to have Peter Odemwingie back with West Brom squad
Steve Clarke insists Peter Odemwingie's return to training will not have a destabilising effect on the West Brom squad.
Last Updated: 08/02/13 5:41pm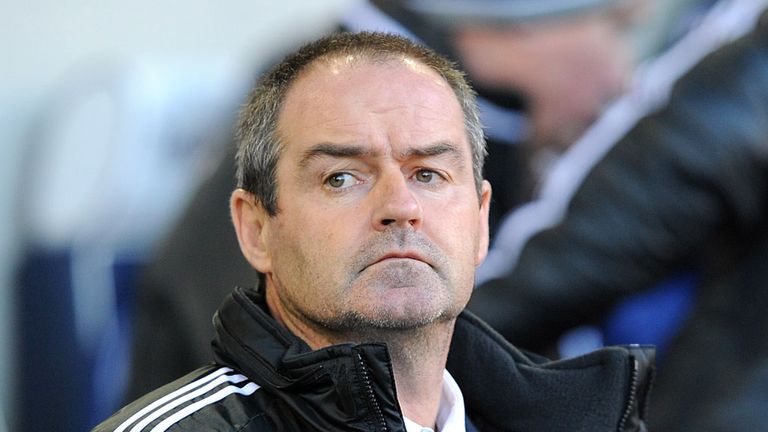 Odemwingie has been disciplined by the club for trying to force through a deadline-day move to QPR and Clarke is pleased the matter has been addressed quickly.
"I don't think you can say everything is back to normal because what happened, the whole episode, is something that didn't need to happen," he said ahead of his side's trip to Liverpool on Monday.
"(But) I'm really pleased the club have come out with this statement because it gives me the chance as a head coach to move on.
"That's what myself and the players need to do. We need to move on and concentrate on the football. I think it is important you try and keep your squad together. That's what I've tried to do.
"It is difficult to comment on whether there is any hostility between individual members of the squad. They are in a different dressing room from me," he said.
"Will Odemwingie's return have a destabilising effect? No it won't. I'm convinced of that.
"I'm sure some of them will be happy the matter is resolved. In fact I'm hoping most, if not all of them, are happy the matter has been resolved and we can move on as a group of players."
West Brom have not specified the punishment meted out to Odemwingie, who earlier issued an apology for his behaviour.
Odemwingie told the club website: "I understand how my actions have been viewed and want to apologise to the club and our supporters for any distress I have caused.
"I want to reassure everyone at the club and our fans that I will continue to give my all whenever I am selected."
Chairman Jeremy Peace added: "This has been an extremely difficult time for the club and it was imperative that we dealt with such a serious matter both fully and correctly.
"He has accepted his punishment and promised to comply with all club regulations moving forward."
You can only watch the best Barclays Premier League coverage here on Sky Sports. Watch Liverpool v West Bromwich Albion exclusively live on Sky Sports 1HD, 3D and Sky Go from 7:00pm on Monday 11th February. Click here for more details