Vincent Kompany feels Manchester City will have 'failed' if they lose Premier League crown
Vincent Kompany will not blame the failure to sign Robin Van Persie if Manchester City fail to win the Premier League.
Last Updated: 09/02/13 11:15am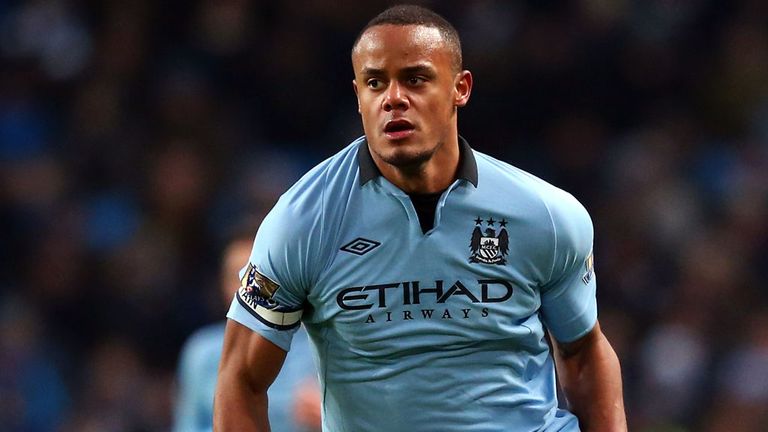 The City captain admits that United "hit the jackpot" by signing Van Persie from Arsenal last summer, and the Dutch striker's 22 goals have helped his side into a nine-point lead with just 13 games left.
But Kompany is not giving up the title without a fight as his side bid to pile the pressure on their city rivals over the run-in.
"Nothing matters apart from being first," Kompany said. "Anything below that then you are just another top team that's failed.
"We are not about to give up but the reality is that we are up against a very good United team.
"United hit the jackpot with Van Persie. But you can't think "What if" about Van Persie. I am not sitting here thinking, "What if we had signed Lionel Messi" either.
"His transfer has made a direct impact but to say he's the reason we can't make it - if it turns out that way - is not correct. I still believe we can do this but if we don't, there will be plenty more reasons than the fact we didn't sign one player and another club did."
Kompany avoided a three-match suspension when his red card for a tackle on Arsenal's Jack Wilshere was overturned, and the Belgian believes it it vital for English football that tackling is protected.
"It's a tricky subject," Kompany said.
"Safety of players is paramount but there is something competitive and physical about the English game that makes people want to watch it. We should not lose that.
"Let's ask people round the world why they watch English football and then let's think about where we want to draw the line when it comes to physicality in the game.
"It's the way the game is played here that makes it possible for fans from all around the world to watch it on TV. The intention of what you do - if it's wrong - should be punished severely. I'm clear on that. But let's not ruin the game."
Kompany insists that he thinks diving is a worse aspect of the game than bad tackling.
"What annoys me most is diving and cheating," he said.
"There is nobody cheating when they tackle hard but fairly for the ball.
"Diving is the bigger crime. You see some competitions abroad when people are ruining games by asking for yellow cards, rolling around, giving their opinion to the referee.
"England is still - on the whole - an example to the rest about how a game should be played. If a decision needs to be made about how English football should evolve, the last thing they should do is try to mirror what happens in other leagues."
Mario Balotelli left City and joined AC Milan in January and he admits he will miss the Italian.
"I will miss him, as a person and a player," he said.
"He was liked here. We have a very competitive squad and it's no shame if you don't make it in the starting XI all the time.
"I am glad of the contributions he made at important moments. Don't forget the pass he made to (Sergio) Aguero on the final day last season.
"In the big moments, he was there for us. That, for me, is enough. He played his part."
To find out more about live football on Sky Sports, Click here