Tottenham full-back Kyle Walker sets sights on third place
Kyle Walker is determined to finish above local rivals Chelsea and secure a top-three finish in the Premier League.
Last Updated: 09/02/13 12:15pm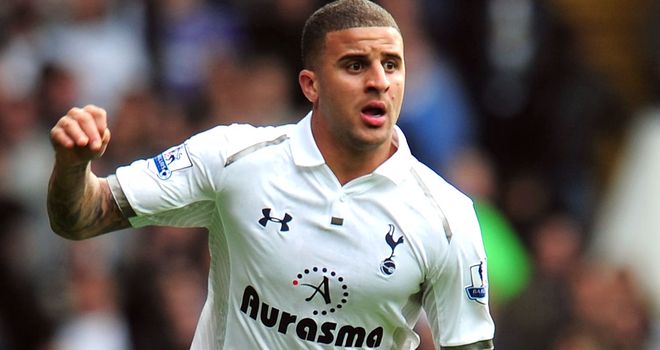 The team finishing fourth must play a qualifier to reach the UEFA Champions League group phase, while Spurs did not even get that opportunity at the start of this term after Chelsea's European success.
Andre Villas-Boas' men head into Saturday's clash against Newcastle United one point behind the Blues in the race for third, and Walker would love to overhaul them before the end of the campaign.
He told the Daily Mirror: "It's always good to go above a local rival. That third position is what everyone wants, really. It's a safety net for the Champions League."
Walker has played a key role for Spurs this season but opponents are now aware of his attacking threat and have begun doubling up on him.
The 22-year-old is eager to remain an effective weapon going forward and has sought out team-mate Gareth Bale to ask for advice.
He explained: "Gareth said, 'You've just got to keep getting at 'em. Don't always go one way. Mix it up. Go outside. Go around players. One or two touches'.
"It's going to take time, though. He is a year older than me but has that year's experience. Hopefully it will slowly start to sink in for me and I'll start putting in the performances I did last season."
You can only watch the best Barclays Premier League coverage here on Sky Sports. Watch Spurs v Newcastle exclusively live on Sky Sports 2HD, 3D and Sky Go from 12:00pm on Saturday 9th February. Click here for more details