Arsenal boss Arsene Wenger wants more protection for Jack Wilshere
Arsenal boss Arsene Wenger wants more protection for Jack Wilshere after he limped out of the win over Sunderland.
Last Updated: 10/02/13 7:47am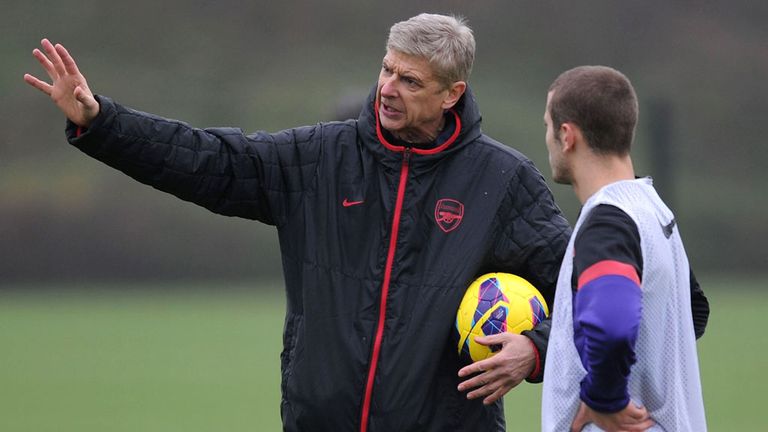 Wenger was unhappy with a number of heavy challenges on his players at the Stadium of Light, in particular some of those on England midfielder Wilshere, who has only recently returned from 17 months out injured.
Referee Anthony Taylor took a largely lenient approach on Saturday despite sending off Gunners defender Carl Jenkinson for two bookable offences.
Asked if he was happy with some of the tackling on show, Wenger said: "No, I wasn't, especially on Jack. I was a bit frustrated because I thought many times, Jack didn't get the free-kick he deserved.
"The referee let two or three things go that I thought were fouls on Jack. I just want the referee to give a foul when it's a foul. I don't want any special protection.
"The referee is not a bodyguard, he is just a referee and you want him just to give a foul when it's a foul."
Wilshere limped off after 50 minutes following a collision with Sunderland's Alfred N'Diaye, although Wenger did not believe the player had been singled out for special attention by the Black Cats.
When asked he said: "No, but you know when you have the midfield we have - Cazorla, Wilshere, Arteta, Ramsey - they won't stop us from playing. They try to stop us from combining and playing, so they get close to us."
Arsenal went in at the break well worth the lead Santi Cazorla's strike had given them but were forced to hang on as Sunderland capitalised on their numerical advantage.
"It was tight in the end, but it was a game with a high level of intensity where we have shown some brilliance going forward, but unfortunately we couldn't score the second goal," Wenger added.
"Then we had to show another side in the second half, especially in the last 20 minutes, down to 10 men, we needed to be resilient, committed and deal with everything they offered us.
"But overall, I think it was a typical Premier League game with top quality on both sides."