Transfer news: Premier League target Christian Eriksen snubs new Ajax contract
Several Premier League clubs are on alert after Christian Eriksen refused to sign a new contract at Ajax.
By Rebecca Stephenson (follow @1rebs on twitter)
Last Updated: 11/02/13 4:38pm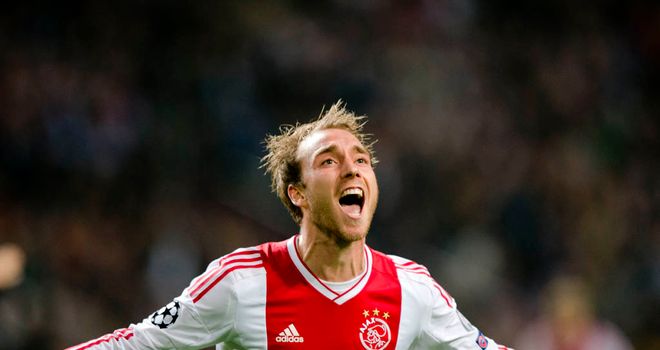 Liverpool, Manchester United and Tottenham are all reported to be keen to acquire the services of current Danish footballer of the year, who scored against Manchester City in the UEFA Champions League earlier in the season.
The midfielder, who turns 21 on Thursday, has been with the Dutch club since the age of 16, and made his debut for Ajax when just 17.
The Dutch champions' technical director Marc Overmars confirmed the man who has scored nine and assisted 13 goals for Ajax this season has refused to extend his current deal, which runs out in the summer of 2014.
He said: "Christian has informed us that he doesn't want to sign a new contract right now. I think he and his agent want to see what opportunities present themselves this summer.
"We want him to stay here for at least two more years, but the day he leaves us, he will be ready to play for the very best.
"He's a player even the biggest clubs in the world could do with having in their squad."
To find out more about live football on Sky Sports, Click here