Everton's Marouane Fellaini feels picked on by 'frightened' referees
Everton's Marouane Fellaini will not change his game despite feeling picked on by referees who are 'frightened' of him.
Last Updated: 20/02/13 12:42pm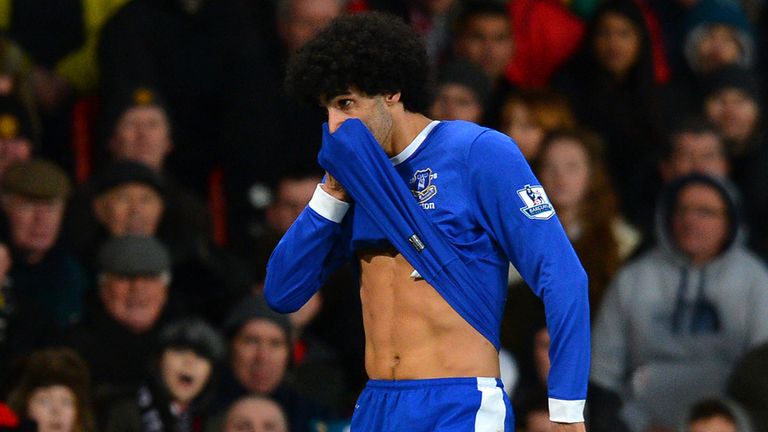 The Belgian international was hit with a retrospective three-match ban back in December for his headbutt on Stoke's Ryan Shawcross.
Fellaini feels he did not get enough protection from the referee in the build-up to that incident and admits it is a recurring theme, having been booked twice since his ban.
The 25-year-old midfielder, Everton's top scorer this season with 11 goals, believes officials should do more to protect him from overly-physical defenders, telling The Sun: "I won't let myself be messed around by defenders who want to tear off my foot or my head.
"If the referee in the Stoke game had done his job properly I would not have been suspended. I was conned.
"I should not have reacted the way I did, as refs can't blow for a foul every single time.
"Besides, this was Stoke, and we knew to expect a physical battle. They pulled our shirts and fouled us throughout the game. In the end I saw red and shouldn't have. It was my fault.
"I am not angry with Shawcross. He tried to stop me, and was just doing his job.
"But his hands were all over me the whole time. However, nobody said a word against him. He is English after all, so no problem!"
He added of referees singling him out: "I can see them keeping a special eye on me - they are frightened of me."
Distinctive
Fellaini admits he has felt singled out by officials since arriving at Everton in 2008 and the 6ft 4in midfielder, known for his distinctive afro hairstyle, believes his unique appearance could be the cause.
He added: "During my first season at Everton I got 12 bookings.
"At the end of it a delegation of referees visited the club to explain why I had got so many yellow cards.
"But they ended up admitting some of the bookings were unduly harsh. I ask myself why they get given to me.
"No doubt it's because I am not someone who can pass by unnoticed. I am tall, and my hairstyle is easily recognised. I know how to give defenders problems."