Arsenal captain Thomas Vermaelen backing manager Arsene Wenger
Arsenal captain Thomas Vermaelen insists under-fire Arsene Wenger is the "right man" for the job.
Last Updated: 20/02/13 3:49pm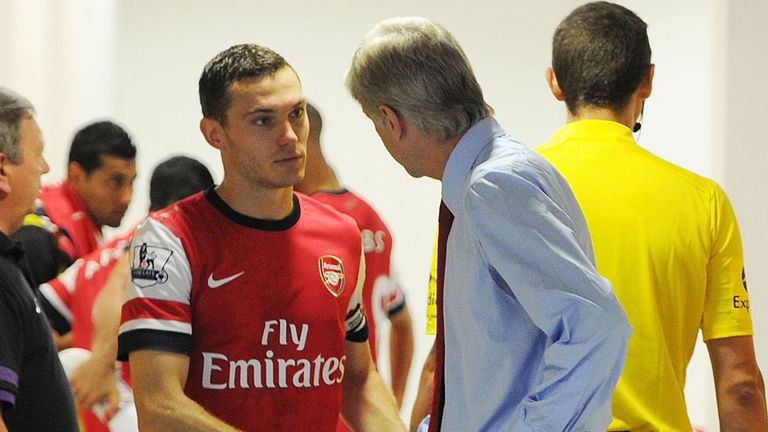 Vermaelen called on his team-mates to get behind their under-fire manager after Tuesday's UEFA Champions League defeat to Bayern Munich left the north London club facing, barring a miracle, an eighth straight season without any silverware.
Wenger's side are already out of the title race, both domestic cup competitions, and face a mountain to climb after losing 3-1 at home to Bayern in their first leg of their last-16 tie.
"Of course we're behind him," said Vermaelen. "He's done a lot for this club. He still does a lot of hard work with us. He is the right man for the job.
"We have to show it on the pitch as well. At the moment the results are not good. But we will work hard with him to get the results back.
"Everyone in football looks too short term. They don't look at the long term, and he's done a lot for this club.
"It doesn't mean that because it's not going well at the moment we don't stand behind him.
"You have to look at the long term. He is the right man for this club and we are all behind him."
However, Vermaelen admits he can understand growing supporter unrest as Arsenal's struggles continue.
Frustrated
"Sometimes, as a player, you are frustrated as well. If you lose you get frustrated but it's not the right thing to act on, we have to stick together, work hard. We need each other.
"The fans must not forget that we need them because they belong to the team and to the club.
"We must stand behind each other, that's the only thing we can do.
"At the moment there is a lot of disappointment because we lost," Vermaelen added.
"We didn't play disciplined enough as a team to win this game, especially in the first half. They were strong. It was difficult.
"Of course we are not happy. We are disappointed. We have to look at ourselves and stick together in difficult times.
"Don't look at each other, don't blame each other, work hard every day to get the results back."